Spirit AeroSystems has assembled its first Boeing 767 forward fuselage, a milestone for a company that has previously produced, but not assembled, sections of the 767's forward fuselage.
Wichita-based Spirit unveiled the first assembled section, which it calls an "integrated 767 forward fuselage", on 3 December.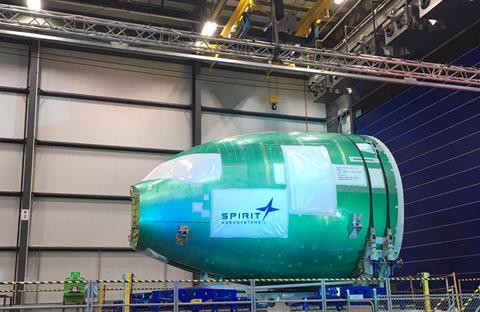 Spirit has long made the four smaller fuselage sections – cab, lower lob and two side panels – that compose the 767's forward fuselage.
The company has previously shipped those sections via railcar to Boeing's site in Everett, Washington, where they are integrated into a single, larger structure called fuselage "section 41", according to Spirit and Boeing.
Now Spirit is taking the assembly from Boeing, completing the work in Wichita. Spirit also makes the 787's full section 41, though it does so from a single piece of composite material, the company says.
Spirit has started assembling four forward 767 fuselage sections into a single "integrated" forward fuselage component
Boeing says the change will improve efficiency as it increases 767 production. The airframer's 767 line currently runs at a 2.5-aircraft-monthly rate, but Boeing intends to boost production to three aircraft monthly in 2020. Spirit says it is already producing 767 forward fuselages at a three-per-month rate.
"In order to build more airplanes to meet our customers' needs, we have to be more efficient," Boeing tells FlightGlobal. "We are working closely with Spirit to build and assemble section 41 in one location to help both companies achieve improved quality and efficiency."
The additional work will double the amount of labour Spirit devotes to 767 fuselages and necessitated construction of an additional manufacturing facility. Work on that site started in October, the company says.
Because 767 forward fuselages are too large for railcars, Spirit will ship them to Everett the same way it ships 787 fuselages – in the cavernous holds of 747 Dreamlifter cargo jets, it says.
Spirit anticipates delivering the first section 41 to Boeing on 4 December.
The 767, now in its 37th year of production, has experienced a renaissance of late, with solid demand from cargo airlines for cargo variants and from militaries for tanker derivatives.
Boeing holds outstanding orders for 101 767s – about three years production at a three-aircraft monthly rate, according to Cirium fleets data. Those orders include freighters for UPS Airlines and FedEx, and KC-46A tankers for the US Air Force.
Additionally, FlightGlobal reported in October that Boeing is considering developing a re-engined 767, primarily for the cargo market, dubbed the 767-XF. Such an aircraft, which reportedly would carry GE Aviation GEnx powerplants, could provide Boeing a lower-cost alternative to its proposed new-build medium-size widebody, called the New Mid-market Airplane (NMA).
Boeing has declined to comment about a re-engined 767.
Story updated on 4 December to note Spirit's 767 forward fuselage production rate and to clarify that Spirit makes 787 forward fuselage section 41s from a single composite piece, not from four integrated sections.