Airframe manufacturer Spirit AeroSystems will halt much of its Boeing-related work and Triumph Group will lay off several hundred staffers in response to the rapid coronavirus-led downturn in the aviation industry.
The companies on 24 March became the latest major US aerospace companies to announce cuts aimed at helping them weather the crisis.
In response to Boeing's decision to temporarily halt its Washington state production, Spirit will "suspend Boeing work" at facilities in Wichita, Kansas and in Tulsa and McAlester, both in Oklahoma, Spirit says on 24 March.
The suspension will begin 25 March and last 14 days, until 8 April. Spirit will continue to pay employees during that two-week period and "continue to support 787 work" for Boeing's 787 facility in South Carolina.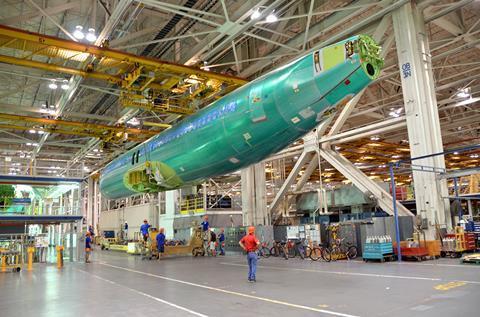 "When production does resume on our Boeing programmes, we will align our costs and workforce to the new level of production set by Boeing. This could potentially include additional workforce actions," Wichita-based Spirit warns.
In 2019, 79% of Spirit's revenue came from Boeing-related work, according to Spirit's financial filings.
Also on 24 March, Pennsylvania-based aerospace supplier Triumph says it will lay off 250 full-time salaried staff and 250 contractors in an effort to "conserve cash and maintain long-term competitiveness".
The company will also furlough "certain salaried employees" for two weeks and has suspended pay increases and cut senior executives' salaries 10%.
"Given Boeing's plans to close their Washington state factories for 14 days, Triumph will evaluate the need to furlough employees at a subset of Triumph plants where capacity is largely dedicated to Boeing Commercial Aircraft programmes," Triumph adds. "Although the situation remains fluid, all factories remain operational."
Boeing work generated 31% of Triumph's fiscal year 2019 sales, its most-recent year-end financial filing shows.
Spirit and Triumph follow General Electric, which on 23 March announced its GE Aviation unit will lay off 10% of US workforce and, for 90 days, furlough half its maintenance, repair and overhaul workers. That same day, Boeing said it is halting commercial aircraft production in Washington state for two weeks due to a coronavirus outbreak among employees. One Boeing staffer reportedly died from the virus last weekend.
Story corrected on 13 April to note Boeing work accounted for 31% of Triumph's FY2019 sales. A previous version said Triumph work generated 18% of its 2019 accounts receivable. Actually, Boeing work accounted for 18% of Triumph's accounts receivable on 31 March 2019, the end of its FY2019.