A $72 million charge against two key widebody aircraft programmes, combined with other pandemic-related expenses, pushed Spirit AeroSystems to a $171 million loss in the first quarter of 2021, against a loss of $163 million in the same period of 2020.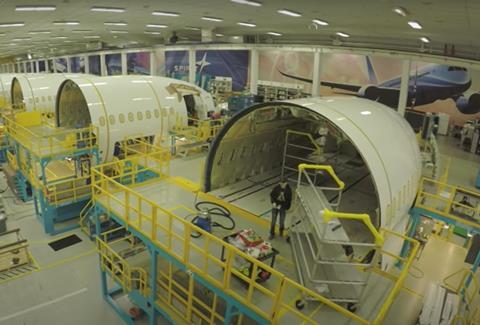 "The recovery this year is under way but slower than expected, particularly for international air travel," says Spirit chief executive Tom Gentile on 5 May.
"We have also been performing ongoing 787 engineering analysis and rework to support Boeing's resumption of deliveries in the first quarter of 2021, which has resulted in a forward loss," he adds.
Spirit generated $900 million in first-quarter revenue, down 17% year on year.
It delivered components for 269 commercial aircraft in the first quarter, 17% fewer than the 324 shipsets delivered in the same period last year.
But the company did deliver more 737 fuselages in the first quarter – 29, up from 19 last quarter and 18 in the first quarter of 2020.
"We are increasing 737 Max production rates in line with Boeing's objective of 31 aircraft per month in 2022, and have started bringing back employees to support our factories," Gentile says.
Boeing resumed 737 Max deliveries late last year after the Federal Aviation Administration lifted the type's 20-month grounding in November.
Spirit also reports a jump in 767 component deliveries to 10 shipsets, up from six in the first three months of 2020.
But Spirit saw production for other commercial programmes decline in the first quarter: 787 shipments fell to 14, from 40 one year earlier, and shipments for the Airbus A350 fell to 12, down from 26.
During the first quarter, Spirit booked a $72.4 million loss against those widebody programmes.
That loss reflects 787 "engineering analysis and rework to support Boeing's resumption of deliveries", reduced A350 production rates and "higher costs to achieve production quality improvements", Spirit says.
Spirit's first-quarter results also include $68 million in "excess capacity costs".
In February, Spirit disclosed it was completing 787 "rework" and analysis at Boeing's request for the purpose of improving production.
At that time, Boeing had halted 787 deliveries to address what it described as a "skin-flatness" problem occurring where fuselage sections join at the aft of the jet. Boeing resumed Dreamliner deliveries in March.