Spirit AeroSystems plans to suspend operations on 22 June in response to a decision to strike by employees represented by the International Association of Machinists and Aerospace Workers (IAM).
The company, which makes components and structures for most major commercial aircraft and many military aircraft, disclosed the news on 21 June.
"In light of the decision to strike by the [union], Spirit will suspend production prior to the expiration of the contract," says the Wichita company. "Beginning with the start of the first shift on… June 22, all IAM-represented employees are not to report for work."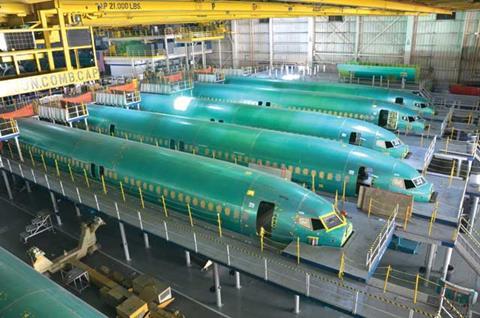 Roughly 55% of Spirit's employees are represented by the union, according to company financial filings. Spirit has some 12,000 employees, its website says.
IAM on 16 June said it had reached a tentative labour deal with Spirit.
Asked to comment, Boeing says it will "continue to monitor the situation and support our valued supplier".
Roughly 45% of Spirit's $5 billion revenue last year came from sales of components – notably fuselages – to Boeing for use on 737s. The company supplies components to other Boeing jets and those made by Airbus.
Spirit is also a major supplier for several defence programmes currently in production, including the Sikorsky CH-53K heavy-lift helicopter and Boeing's KC-46 and P-8 jets.
The company is also an official partner on multiple military aircraft development programmed, including the Bell V-280 tiltrotor and Northrup Grumman B-21 steamy bomber.
Spirit says IAM employees will continue to receive pay.
"We are disappointed that our employees represented by the IAM rejected our four-year contract offer and voted to strike," Spirit says. "We believe that our fair and competitive offer recognises the contributions of our employees and ensures we can successfully meet increasing demand for aircraft from our customers."
Additional reporting by Ryan Finnerty