Spirit AeroSystems expects by year-end to open a new facility in Prestwick, Scotland where it will research and develop manufacturing and production technologies aimed at helping the company land contracts to supply Airbus's next single-aisle aircraft programme.
Though the coronavirus crisis has created broad uncertainty in every aerospace sector, Wichita-based Spirit is aiming for its planned 6,503sq m (70,000sq ft) "Aerospace Innovation Centre" to open in the fourth quarter of 2020.
It plans for the site to employ some 300 staff within two or three years, says Spirit chief engineer and vice-president of research and development Sean Black.
The site's focus will be developing new composite manufacturing technologies and, just as critically, lower-cost and higher-tech manufacturing methods that can be quickly scaled to commercial production rates, says Black.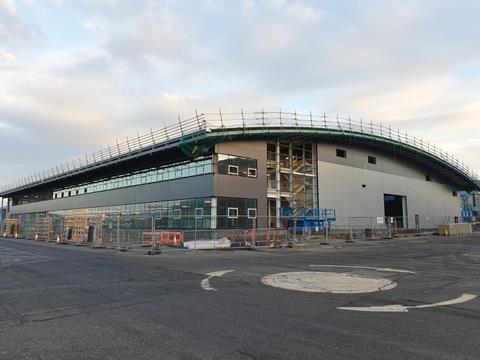 "There is going to be a strong focus on advanced architectures and manufacturing concepts – around anticipating requirements of future aircraft in the context of performance, cost and rate," Black says.
He says such technologies will position Spirit to win work on Airbus's next single-aisle programme.
In November 2019, Airbus chief executive Guillaume Faury said he could envision such an aircraft entering service in the early 2030s.
"Automation of the production system is a key enabler," Faury said at the time.
Spirit's expansion of research and development in Prestwick, where it already makes spoilers for A320-family aircraft, aligns with other company efforts.
Spirit recently opened a new composite manufacturing site in Prestwick, and it participates in Airbus' "Wing of Tomorrow" technology demonstrator programme. That effort aims to develop a composite wing manufacturing concept for the European ariframer's future narrowbody.
As part of that programme, Spirit expects this year to deliver to Airbus a composite lower wing cover manufactured using an "out-of-autoclave" resin infusion process, Black notes.
Spirit has for several years been seeking to expand its work for Airbus to help shift away from a heavy reliance on Boeing programmes.
Black says the Aerospace Innovation Centre will help Spirit avoid technology hang-ups that can arise at two critical development stages: when turning concepts into prototypes, and then bringing prototypes to full industrialisation and commercial production.
The Prestwick research site, he says, will develop both new composite technologies and advanced manufacturing processes, ensuring the company can quickly transition to a "full-high-rate" production level.
"We anticipate that we will no longer have the luxury of having up to 100 shipsets to demonstrate our full manufacturing maturity," says Black. "We will really need to demonstrate those from the first shipset."
Spirit aims to reduce the duration of production development by one-third and anticipates needing to reduce costs by 30%, according to Black.
Such savings can come partly through use of advanced composite manufacturing techniques such as Spirit's out-of-autoclave process, which can eliminate need for some fasteners and other equipment.
Typical composite manufacturing involves layering composites on a tool, which is placed inside an autoclave for curing. Spirit's out-of-autoclave techniques, developed in partnership with University of Strathclyde and Scotland's Innovation Centre for Sensor and Imaging Systems, uses a "heated tool" to cure the resin. Spirit has also developed a resin infusion process, it says.
Additionally, the company aims to take some integration work off Airbus's hands by supplying more-complete wing structures – components already integrated with hydraulic, electric and fuel system components, which can help reduce manufacturing costs, Black says.
The Prestwick innovation site will also employ technologies like "digital twins" (virtual representations of physical objects) and cognitive robots (those programmed to have animal-like cognition). Such technologies can help Spirit ensure its processes are ready for high-rate production, he adds.
"The objective is to deliver full manufacturing and production readiness," says Black.
Aside from the Prestwick facility, the company is also acquiring additional manufacturing capacity in the UK with the purchase of Bombardier's Belfast-based aerostructures unit which builds wings for the Airbus A220.
While the Wing of Tomorrow programme is a transnational effort, other UK participants include GKN Aerospace and GE Aviation Aerostructures, with funding from the country's Aerospace Technology Institute. Airbus has its wing centre of excellence in the UK and builds the wings for all its commercial aircraft at Broughton in North Wales.