Spirit AeroSystems and its largest employee union have agreed to the terms of a new contract, though workers remain on strike ahead of a planned union vote on 29 June.
The agreement stands to provide unionised employees a 9.5% wage increase in 2023, followed by annual increases through 2026, according to union International Association of Machinists and Aerospace Workers (IAM).
The Wichita-based aerospace component maker halted operations on 22 June after IAM-represented workers rejected a previous offer and approved a strike.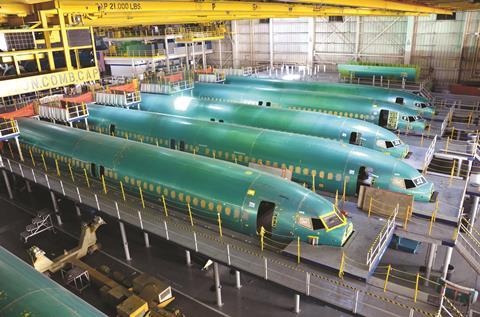 Now the union and Spirit say they reached new terms.
"This contract is an industry-leading agreement that should make our members extremely proud," IAM says. "We fully support this proposal and are proud to recommend its acceptance during the membership vote."
Roughly 55% of Spirit's employees are represented by the union, according to company financial filings. Spirit has some 12,000 employees, its website says.
"We listened closely and worked hard in our talks over the last several days to further understand and address the priorities of our IAM-represented employees," says Spirit chief executive Tom Gentile. "We believe this new offer is fair and competitive and recognises the contributions of our employees."
In addition to the 9.5% pay jump this year, Spirit agreed to give union workers 4% wage hikes in 2024 and 2025, and a 6% bump in 2026, union documents say. IAM-represented employees will also receive a $3,000 "signing bonus" and annual bonuses for four years.
The agreement, if approved by IAM members, could mark the end of a disruptive work stoppage coming as the broader aerospace industry struggles with labour and parts shortages. Spirit's largest aircraft programme is the Boeing 737, for which it makes fuselages.
IAM's members rejected the prior offer and green-lighted a strike on 21 June. Spirit responded by saying it would pre-emptively "suspend factory production" on 22 June, several days before the previous contract expired.