Spirit AeroSystems expects a recently revealed fuselage problem affecting Boeing 737s will cost it $31 million in 2023, including a $17 million hit in the first quarter.
Spirit, which makes 737 fuselages and other components, disclosed the financial hit on 3 May, when it reported losing $281 million in the first quarter. That compares to Spirit's $52.8 million loss in the same period last year.
Spirit also revealed on 3 May having struck deals with customers to secure $280 million in financial aid.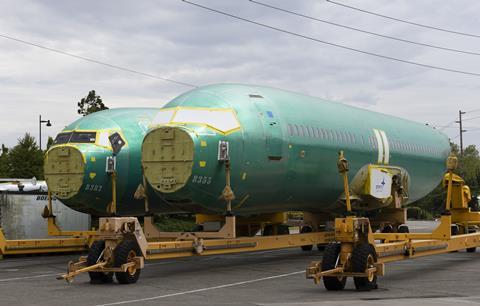 Boeing in mid-April revealed it had stopped some 737 deliveries due to the fuselage issue, which involves fittings supplied by Spirit. The problem affects 737 Max 8s and 737NG-based P-8 military surveillance jets, including those already in service.
Spirit's first-quarter revenue jumped 22% year on year to $1.4 billion but expenses surged 25% year on year to $1.5 billion.
Its first-quarter loss also reflects $110 million in forward charges against several of Spirit's commercial aircraft programmes, and $43.3 million in "excess capacity costs".
Those forward charges include an $81 million hit against its Airbus A220 work, "driven by production schedule changes, foreign currency movement and $46 million of non-recurring supply chain costs", the company says.
The company anticipates its 2023 profit will be $31 million lower due to the latest 737 problem, which involves "vertical fin attach fittings".
"After identifying the quality issue, our top priority was to work with Boeing and the [Federal Aviation Administration] for their confirmation that it was not an immediate safety-of-flight issue," Spirit says. "Once confirmed, we turned our attention to ensuring that our ongoing production meets manufacturing standards."
Spirit has since revised its assembly processes address the 737 problem and has started repairing already produced components that are now at its Wichita site – work it expects to complete by the end of July.
Spirit expects the issue will, in total, cost more than the $31 million budgeted for this year but says it cannot yet "reasonably estimate" the amount.
"Additional costs are expected, including costs Boeing may assert to repair certain models of previously delivered units in their factory and warranty costs related to affected 737 units in service," Spirit says. "The impact will be based on a unit-by-unit analysis. However, the company cannot reasonably estimate the remaining potential costs at this time."
Spirit says it has secured access to $280 million in cash advances from customers included Boeing. Of that, it anticipates receiving $230 million this quarter – including $180 million from Boeing – with the remaining $50 million expected to arrive in the fourth quarter. Spirit says it has agreed to repay the advances in 2024 and 2025.