Spirit AeroSystems posted a $163 million first-quarter loss and warned of an uncertain future as the impact of the coronavirus pandemic and ongoing Boeing 737 Max grounding hit hard.
The first-quarter loss compares to a profit of $163 million in the same period last year.
Citing "uncertain" market conditions, Spirit also warns that changes to 787 and Airbus A350 production rates could add $100 million in forward losses to its second quarter results.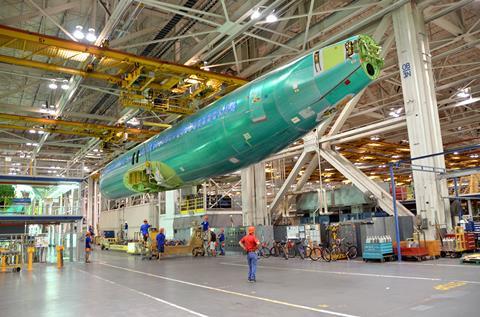 Spirit also says it reached a revised agreement with Boeing to deliver only 125 737 Max fuselages in 2020. That figure is down 40% from a previous plan to deliver 216 Max fuselages this year.
Spirit's first-quarter revenue plummeted 45% year on year, to $1.1 billion, "primarily due" to Boeing's suspension of 737 Max production in January, a result of the Max grounding.
"The aerospace industry and Spirit are facing unprecedented disruption and uncertainty from the continued 737 Max grounding and Covid-19 pandemic," Spirt says. The company has "executed a number of cost reduction activities to align our cost structure to the lowered rates of production. In addition, we have taken several actions to preserve liquidity."
Spirit in the last week announced it is cutting another 1,450 jobs in Wichita, 14% of its workforce there. Those cuts add to 3,200 jobs (including 2,800 in Wichita and 400 in Oklahoma) that Spirit eliminated earlier this year. The company also cut 200 contractor positions, reduced executive pay 20%, implemented four-day work weeks for salaried staff and furloughed Boeing programme workers in Wichita and Oklahoma for 21 days.
During the first quarter, Spirit delivered 324 aerostructures sets, down 28% from 453 sets one year earlier. Spirit handed over just 18 737 Max sets in the first quarter. That compares to 152 sets for the same period a year earlier. Prior to the Max grounding, 737 fuselages accounted for roughly half of Spirit's revenue.
In addition to revising its 2020 737 Max fuselage delivery forecast to 125 units, Spirit in the first quarter received $225 million in advance payments from Boeing. It also deferred $120 million in planned capital expenses and issued $1.2 billion in debt.
Spirit's first quarter results reflect $73 million in Max-related "excess capacity costs", restructuring expenses of $43 million, "abnormal" coronavirus-related costs of $25 million and $69 million from a voluntary retirement programme. Additionally, Spirit logged $20 million in forward losses attributed to the 747, 787, A350 and Rolls-Royce BR725 engine programmes.
Spirit burned $331 million in cash during the first quarter and ended the period with cash and cash equivalents valued at $1.7 billion.
The company's fuselage business lost $86 million in the first quarter; its propulsion business lost $5.3 million, but its wing business posted a $13.6 million profit.
Spirit has suspended financial guidance but warns its second quarter results could be hammered by $70-90 million in forward losses attributed to the 787 programme and $15-20 million in losses from the A350 programme.
Citing broad market "uncertainty", Spirit warns those figures could change significantly.
Boeing recently disclosed plans to cut 787 production from 14 to 10 aircraft monthly this year and to seven jets monthly by 2022. Airbus has also planned A350 production cuts.