Spirit AeroSystems has terminated its planned $420 million acquisition of aerospace component maker Asco, while warning it may face lawsuits related to a now-uncertain plan to acquire Bombardier's aerospace businesses.
Wichita-based Spirit revealed new details about the deals ahead of saying it is seeking $400 million in additional financing.
Spirit and Belgium company Asco signed their termination agreement on 25 September.
Under the terms, the parties agreed to "release each other from any and all claims", according to a Spirit securities filing.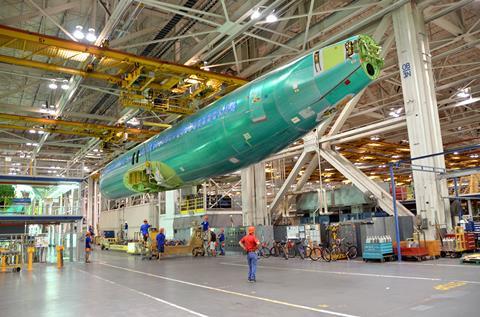 The filing notes that some conditions for the Asco purchase remained unfulfilled, including a review of the acquisition by the European Union. The US company viewed Asco as an avenue to diversify beyond primary reliance on Boeing products.
Spirit, which last week warned that the deal might not close by a 1 October deadline, did not respond to a request for comment.
Spirit, facing pressure from the aerospace industry's troubles and the Boeing 737 Max grounding, also now warns it could face litigation if it fails to close the Bombardier acquisitions.
Last week Spirit said that purchase was uncertain. The company has planned to pay $500 million for Bombardier aerospace manufacturing sites in Ireland and Morocco, and a maintenance business in Dallas.
"Bombardier sellers may commence legal actions alleging that we have not complied with our applicable covenants and agreements," Spirit says in a 29 September securities filing.
"There is a risk that the outcome of any such potential litigation will not be in our favour," the filing adds. "Such litigation may result in substantial costs and diversion of our management's attention and resources, and could disrupt our business."
On 29 September, Spirit said it is offering $400 million in new debt. The company closed a $1.2 billion financing deal in April.