News that Spirit AeroSystems has again cut 2020 production of Boeing 737 structures sent another ripple of discouragement through an already reeling aerospace industry.
Spirit now says it will produce fuselages and other components for just 72 737s in 2020 – a fraction of its previous plan and a reflection of the slow pace at which Boeing has restarted Max production, and of the likely rate of deliveries this year.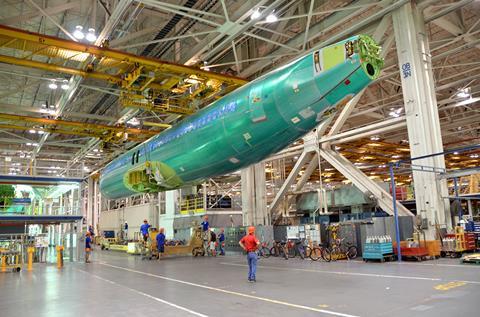 Spirit also warns it may breach financial covenants. However, the Wichita company, which has laid off thousands of employees in recent months, says it continues working to close two major aerospace acquisitions that will cost more than $900 million.
Teal Group aerospace analyst Richard Aboulafia says Spirit's 72-fuselage rate for 2020 makes clear that the Max programme's return will not provide the significant economic boost that suppliers had hoped for.
"The Max was supposed to provide the only relief imaginable for a supply chain which is under siege," Aboulafia says. "When you go from zero to something, you are going up."
But Spirit's downward sliding 2020 estimates reveal the ultra-slow rate at which that Max programme is resuming. "That relief is put off… Diminished," Aboulafia says.
Of the 72 737 fuselages Spirit intends to produce this year, 35 have already been built and delivered to Boeing. That leaves only 37 to complete over the remainder of 2020 – about six per month.
In recent months, Spirit has repeatedly slashed its 2020 737 fuselage production estimates: from 216 shipsets, to 125, then to no more than 104, and now to 72.
Not long ago the company was building 52 737 fuselages monthly on three production lines, and relied on the Boeing narrowbody programme for roughly half its revenue.
Spirit's latest projection does not surprise some aerospace analysts, who already expected minimal 737 Max deliveries this year. But the news did seem to startle some investors: in the days following Spirit's 22 June announcement, the company's stock price dropped 20%, to less than $22 per share.
Spirit's 2020 output does not align perfectly with Boeing's 737 final assembly rate because the aerostructures company produced fuselages at a rate greater than Boeing built 737s for much of 2019.
After the March 2019 grounding, Boeing cut its rate from 52 to 42 737s monthly, but kept Spirit at the higher figure. That created a surplus of 10 fuselages each month until both companies halted production in January.
During that window, Spirit produced a surplus of about 120 Max fuselages – stock that Boeing will likely not complete until 2023, financial services company Jefferies estimates in a 23 June report.
Jefferies anticipates Boeing will build 45 737 Max this year, 198 next year and 372 in 2022.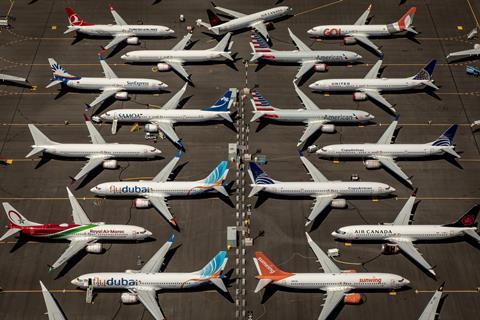 With the latest "substantial" production cut, Spirit warns that it could "breach the financial covenants under its credit agreement in the fourth quarter of 2020 without an amendment or waiver".
The company has not provided more details about those covenants.
However, during a May earnings call, Spirit chief executive Tom Gentile said Spirit's covenants include a requirement that the company maintain at least $1 billion in liquidity. At the time, Gentile assured investors that Spirit "will be able to meet the covenants", based on an assumption that it would build 125 737 fuselages in 2020.
Spirit started April with cash and cash equivalents of $1.8 billion, and has since bolstered its finances by issuing $1.2 billion in debt and landing $80 million in government funds.
Bond covenants also limit its debt-to-income and income-to-interest expense ratios.
What might happen if Spirit breaches those covenants remains unknown, but Aboulafia suspects the outcome will depend largely on the flexibility of financial partners.
"It becomes a dialogue" with financiers, Aboulafia says. "The objective is for both sides to understand where the other is coming from, and play the long game and get through it."
He adds that companies throughout the aerospace industry will likely soon face similar discussions with lenders.
"This is not some kind of strong market and strong economy where capital can quickly be deployed elsewhere and used to get faster returns," Aboulafia says. "I would hope there would be scope to negotiate."
Jefferies predicts Spirit's financial condition will improve as the company increases Max fuselage deliveries in 2021 and beyond. It estimates Spirit will lose about $291 million in 2020, then swing to a slight profit the following year.
$900 MILLION IN ACQUISITIONS
Spirit's financial warning came as it remains committed to pay more than $900 million to complete two acquisitions: that of Bombardier's aerostructures business for $500 million, and of Belgium component supplier Asco for $420 million.
The Bombardier purchase, which includes manufacturing facilities in Northern Ireland and Morocco, is scheduled to close by mid-year, while the Asco purchase agreement expires on 1 October.
Spirit says those deals remain on track.