US start-up Electra Aero has secured $30 million in funding through a US Air Force (USAF) programme to further develop an all-electric short take-off and landing (eSTOL) aircraft.
The Virginia-based company says it won a development contract from AFWERX, a USAF programme that invests in promising private-sector companies for the purpose of advancing technologies that could aid US defence.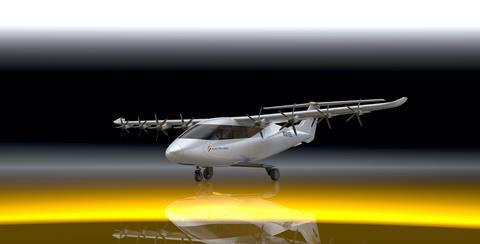 Electra came onto the scene in recent years with plans to develop an electric-powered eSTOL aircraft with 400nm (741km) of range and ability to operate from runways as short as 91m (300ft).
Its eSTOL will have a "blown-lift" design – meaning electric props mounted on its wings will blow sufficient air over its wings to enable the aircraft to get airborne at speeds less than 27kt, the company has said.
Electra's latest specifications say the aircraft will carry nine passengers. It expects its design will be certificated in 2027.
The new AFWERX contract reflects the USAF's interest in national-security applications for eSTOL technology, says Electra founder and chief executive John Langford. The USAF is pursuing such technology as part of its Agility Prime programme.
The fresh investment will aid Electra's development and testing of a full-scale eSTOL demonstrator and help it develop a variant suitable for USAF missions, the company says.
"Electra's eSTOL represents a new class of aircraft, characterised by helicopter-like operational flexibility, with performance and operating costs better than comparable fixed-wing aircraft," Electra says.
The company has already won six technology development contracts through US government small business development and technology development programmes, Electra says.
In August 2021, news broke that helicopter operator Bristow Group signed an agreement to help Electra develop its eSTOL, with plans to purchase 50 of the type.