Shared private aviation company Surf Air Mobility is acquiring electric aviation firm Ampaire, calling the latter's hybrid-electric power train technology a "critical component" of Surf Air's plan to expand in environmentally-friendly regional transportation.
Surf Air, which bills itself as an alternative to commercial flying, says on 18 February that taking Ampaire under its wing will "further Surf Air Mobility's mission to move the world forward faster, and accelerate the industry's path to zero-emission travel".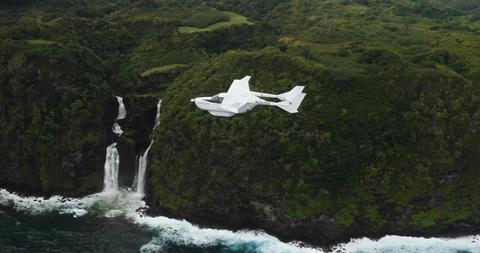 "With flight demonstrations and testing already in progress, Ampaire's hybrid-electric power train technology brings us closer to the next great shift in air travel: sustainable aviation that's accessible to everyone," says Sudhin Shahani, Surf Air Mobility's chief executive.
Los Angeles-based Ampaire is among several companies working to equip existing small piston and turboprop aircraft – seating up to 19 passengers – with electric propulsion systems. Surf says there are "tens of thousands" of such aircraft that could be eligible for power train upgrades.
Ampaire's platform is a Cessna 337 Skymaster, which it has modified by replacing one of two piston engines with an electric propulsion system.
Last November, Ampaire flew aircraft, which it calls the Electric EEL, on an "actual airline route" – a round trip between Kahului and Hana, both on Hawaii's Maui island – on a single charge. The destinations are about 24nm (45km) apart, making for one-way flights lasting about 20min, the company said at the time.
"Working with Surf Air Mobility will allow us to follow the successful path of hybrid-electric automobiles and take that model to the sky more quickly," says Ampaire chief executive Kevin Noertker. "It is our intention to be one of the first to make this technology available at scale on both existing and new commercial routes."
Surf Air's ambitions are bigger. "With this advanced technology, we have the opportunity to solve aviation's biggest problems — operating cost and environmental impact — through electrification," Shahani says.
Surf Air, based in Santa Monica, California, began life as a members-only airline in 2013. It offered an all-you-can-fly service on Pilatus Aircraft PC-12s to a range of secondary airports across California for a monthly membership fee.
Acquiring Ampaire will be a step toward a future where cleaner aircraft will operate trips of all lengths, not just short hops, Surf Air says. It aims to build a sustainable flight ecosystem – a goal that numerous competitors have set for themselves as well.
"Hybrid-electric aircraft, which can lower direct operating costs, are on track to make air travel more affordable and more accessible for an even broader range of flyers and destinations," Surf Air says.