Swiss battery company H55 has joined Harbour Air and Magnix in an effort to develop and certificate an all-electric De Havilland Canada DHC-2 Beaver seaplane.
The project is already well under way, with Harbour Air, a Canadian commuter airline based near Vancouver, having flown a demonstrator all-electric Beaver for the first time in late 2019. That aircraft is powered by Magnix's Magni500 electric propulsion system.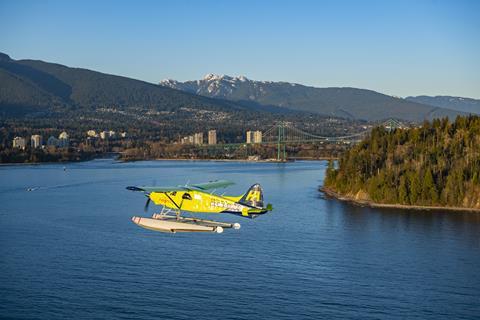 Now, Harbour and Magnix, which has offices in Seattle, have enlisted H55 – a spin-off from the Solar Impulse project – to provide a battery system and other technologies for their electrification programme.
The trio intend to "certify the world's first electric Beaver commuter airplane through a supplemental type certificate programme", they said on 20 April.
"The companies will collaborate together with Transport Canada to certify the installation of the Magnix electric propulsion unit and the H55 enhanced battery system, transforming Harbour Air's seaplanes into an all-electric commercial fleet."
Unclear is whether the addition of H55 to the project means changes to the demonstrator's systems and configuration, or changes the development timeline. However, the team says they intend "to bring their shared vision of clean, efficient and quiet commercial aviation to life by 2022".
The companies decline to provide more information.
In January 2020, Harbour chief executive Greg McDougall said he hoped to certificate the electric Beaver within two years, possibly less. He suggested the aircraft might need more advanced batteries to be commercially viable.
H55 was launched in 2017 by a three-person team that includes Andre Borschberg, who, along with Bertrand , helped found Solar Impulse, the organisation behind the solar-powered aircraft project. Borschberg is H55's executive chairman.
"We have been attracted by Harbour Air and Magnix's vision, pioneering spirit and commitment to make aviation clean," Borschberg says. "The path to electric aviation is complicated. But, at the same time, by joining forces our combined experience will lead to quicker certification."
H55 has developed a "single-engine battery pack system" designed to power small aircraft. The pack has energy capacity of , produces () of maximum power, has 90min endurance and can be charged in 1h, the company says.
H55 has integrated a battery system into a two-seat Bristell aircraft, which made first flight in 2019. It aims to acquire EASA design and production certifications in 2021, and to gain a type certificate for its battery system by mid-2022.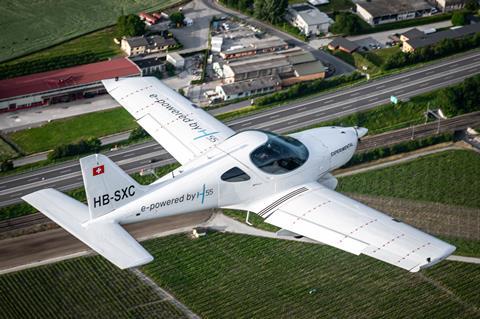 H55 does not specify what system it intends to develop for the Beaver but it will have to be larger than that installed on the , due to the power requirements of the bigger aircraft.
"Magnix, Harbour Air and H55 will work on design optimisation for the electric propulsion unit, energy storage system and related aircraft systems based on ongoing flight testing," the companies say.
Harbour sidelined one of its Beaver seaplanes several years ago for the electric Beaver project. The Harbour-Magnix team removed the six-passenger aircraft's Pratt & Whitney P-985 Wasp Junior piston engine, replacing it with the 750hp Magni500.
The Magnix-powered Beaver made first flight on 10 December 2019, lifting off from the Fraser River near Vancouver. That event was, according to Harbour, the first flight of an all-electric commercial aircraft.
Harbour and Magnix have since conducted "additional flight tests to measure and collect data on cruise performance and take-off thrust efficiency, electro-magnetic interference, battery management software logic, noise levels and more".
As configured early last year, the demonstrator Beaver carried lithium batteries with a power-to-weight ratio of about per kilogram – a relatively low-power-density system, McDougall told FlightGlobal in January 2020.
He said better lithium batteries could, as of that time, generate up to per kilogram. But, he added, per kilogram batteries would likely be available by the time Harbour started commercial flights with an electric aircraft.