Italian airframer Tecnam has paused development of its all-electric P-Volt aircraft citing a lack of certainty around improvements in battery performance to deliver a "viable" product.
Launched in 2020 in partnership with propulsion supplier Rolls-Royce, the P-Volt was an all-electric version of the company's popular P2022 Traveller. It was due to enter service in 2026 with Norwegian regional carrier Wideroe.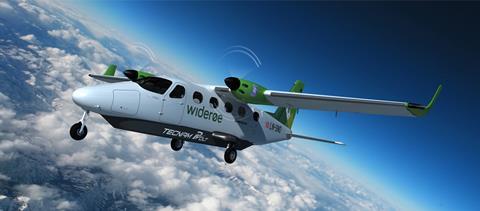 However, the Capua, Naples-based manufacturer says that after "three years of intensive studies" covering the whole lifecycle of an all-electric aircraft, it does not believe that battery technology has advanced sufficiently to make the project viable.
Tecnam says it was striving to deliver an aircraft that could be operated "profitably, sustainably and efficiently" against typical airline metrics, and with a clear time to market.
"At present, Tecnam believes that these can only be achieved by extremely aggressive speculation on uncertain technology developments," it says.
Analysis of energy storage solutions and their development path over the next five years, "excluding technological revolutions that no one can speculate on", led the airframer to conclude that from investment perspective "an aircraft with a battery pack at the end of its life would not be the best product for the market, but certainly the worst".
Likely battery performance degradation would see aircraft range quickly reduced "after a few weeks of operation" and would not offer a solution towards the decarbonisation of aviation.
It predicts that the storage capacity of cells would quickly fall below 170Wh/kg, leading operators to "replace the entire storage unit" after "only a few hundred flights" leading to a "dramatic increase in direct operating costs".
On that basis, the development of a new all-electric aircraft for service entry in the 2026-2028 period that could deliver against CO2, operating cost and profitability metrics would not be "viable", Tecnam says.
Preliminary specifications released by Tecnam in 2021 said the P-Volt would be able to fly routes of 85nm (160km) using "today's technology", rising to 145nm by 2030, compared with 950nm for the piston-powered P2012. Other performance figures were also lower than the baseline aircraft: useful load was 810kg (1,790lb) against 1,410kg, while cruise speed was 120kt (222km/h) versus 173kt.
Chief R&D officer Fabio Russo – who has previously been highly critical of the promises made by other developers of all-electric aircraft – says that the company does not feel pressured to bring a product to market by 2026.
"It has always been our culture to commit to achievable goals with customers and operators, and we intend to keep that promise.
"We hope that new technologies will make businesses viable sooner rather than later, and we have real confidence in our partners' ability to bring highly valuable products to the zero-emission powertrain and energy storage arena."
But Tecnam will continue its research activities in the space "ready to bring the P-Volt back into the type certification arena as soon as technology evolution allows."
Tecnam does not disclose the impact of the decision on its relationship with Rolls-Royce or Wideroe, although Russo adds: "We are extremely proud to keep working with every company that is developing new technologies for aviation and with every airline that is willing to participate [in the process]… without aggressive time-to-market speculation."

Dominic Perry is deputy editor of Flight International but also contributes extensively to flightglobal.com. Although specialising in the coverage of the helicopter industry, he has written on most topics in aerospace – be they commercial, defence or business aviation. In addition, there has been an increasing focus on the decarbonisation of the industry and zero-emission flight initiatives.
View full Profile