Italian airframer Tecnam has disclosed the expected specifications of its in-development P-Volt electric aircraft, and launched a programme under which P2012 Traveller owners can convert their aircraft to battery power.
Tecnam's P-Volt is based on its P2012, an 11-seat passenger aircraft powered by twin Lycoming TEO-540 piston engines. The airframer is developing the aircraft in partnership with Rolls-Royce, which is supplying the electric powertrain.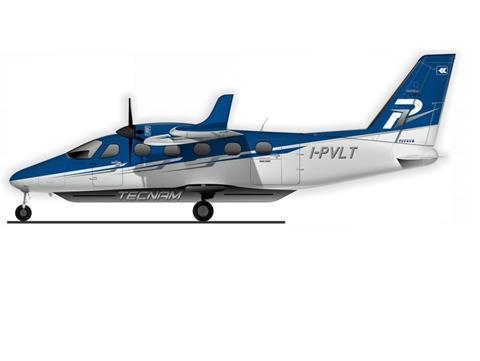 Tecnam will equip the P-Volt with a 1,100kg (2,425lb) battery pack and two electric powerplants, each putting out 320kW (429hp), the company says. The P2012's Lycoming engines each produce about 370hp.
With "today's technology", the batteries and propulsion system will give the aircraft range of 85nm (157km), though Tecnam expects technological advances by 2030 will bring that range to 145nm. Tecnam's range estimates are "computed with battery at end of life", it says.
The P-Volt will cruise at 120kt (222km/h) and have a 180kt top speed, Tecnam adds. Those figures compare with the P2012's 950nm range, 173kt cruise and 194kt maximum speed.
Tecnam lists the P-Volt's ramp weight at 4,086kg, compared with 3,700kg for the P2012.
The "P-Volt will host the same avionics suite and require similar training as its parent model," adds Tecnam. "The key points of differentiation between the two models will be in the typical cruise speed and range, directly related to P-Volt's" battery system.
The company intends for the P-Volt to enter service with Norwegian airline Wideroe in 2026.
Tecnam has also unveiled its "P-Volt Transition Program", under which the airframer will give "P2012 Traveller owners priority slots for the P-Volt upgrade", it says.
Customers that purchase P2012s will have "the possibility to book a P-Volt production slot", Tecnam says.
Story updated on 29 November to include additional information from Tecnam in the preceding sentence.