Italian aircraft manufacturer Tecnam expects the US Federal Aviation Administration will certificate its P-Mentor training aircraft late this year, paving the way for the company to begin deliveries to four newly disclosed customers.
The company expects the two-seat aircraft, which European regulators certificated last year, will be granted the FAA's clearance in the fourth quarter of this year, Tecnam tells FlightGlobal on 26 July.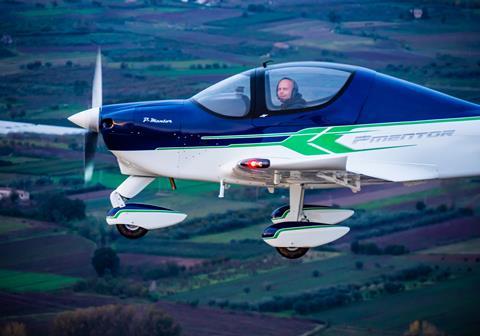 Tecnam this week is also showcasing one of the single-engined trainers at the EAA AirVenture show in Oshkosh. That aircraft was flown to Oshkosh from Argentina.
Tecnam now says four US flight schools will operate P-Mentors: Kilo Charlie Aviation in Kansas, Vermont Flight Academy, Melbourne Flight Training in Florida and Stephen F Austin State University in Texas.
Tecnam says a P-Mentor destined for Austin State University is already in the USA and will be delivered following FAA certification. It declines to specify details about any orders held by US customers.
"The aircraft is set to revolutionise the American training paradigm and personal flying marketplace," Tecnam says. "The P-Mentor has everything flight schools were looking for in today's market."
The aircraft have Garmin avionics, variable-pitch propellers and optional emergency parachute. Powered by single 100hp (75kW) Rotax 912iSc engines, P-Mentors cruise at 117kt (217km/h) and have 730nm (1,352km) of range, according to Tecnam.