Textron Aviation has again delayed certification of its clean-sheet single-prop Beechcraft Denali, saying slower-than-planned certification of the type's GE Aerospace Catalyst engine forced another push back.
In disclosing the new timeline on 8 May, Wichita-based Textron Aviation also revealed it is equipping the Denali with a Garmin-supplied auto-land system, which will come as standard equipment.
"Because we are aligning the certification with GE's certification timeline, we are now expecting the Denali to be certified in 2025," says Textron Aviation senior vice-president of global sales and flight operations Lannie O'Bannion. "The Denali continues to exceed expectations, and our flight-test team continue to surpass many… milestones."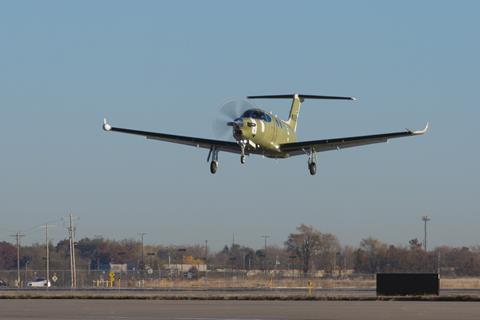 Denali was already running late, even before the latest delay.
Textron Aviation revealed the type's development in 2015, hoping to complete first flight in 2019. But delays ensued, attributed by executives partly to heightened Federal Aviation Administration engine certification requirements, including those related to icing. Denali finally got airborne in November 2021, with Textron Aviation then aiming for certification in 2023.
GE Aerospace's Italian subsidiary Avio Aero produces the 1,300shp (969kW) Catalyst, which on Denalis are mated to full-authority digital engine controls (FADEC) and auto-throttle systems. Denali has a composite 105in (2.7m)-diameter five-blade propeller supplied by McCauley. Avio ships the engines to Wichita for installation on Denalis.
Executives now expect the Catalyst engine will be certificated in 2024, putting Denali's clearance in 2025.
GE Aerospace general manager of turboprops Paul Corkery says the latest delay also results partly from more-stringent FAA certification standards, citing icing and engine ingestion requirements.
"This is the first clean-sheet design in about 50 years, in this class. A lot has changed," he says. "We are incorporating all of that into our certification programme."
But Corkery also mentions supply chain issues.
GE Aerospace is "standing up a new supply chain for a new product" and must be ready to "support production ramp", he says.
That work comes as GE Aerospace and competitors – indeed, the entire aerospace manufacturing industry – faces shortages of skilled workers, raw materials and components.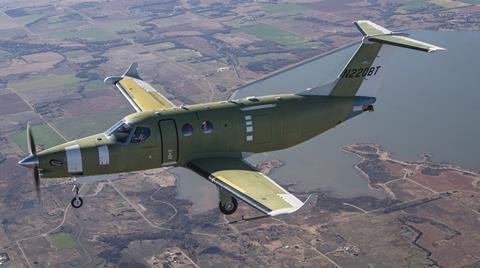 Corkery expresses confidence the team will meet the revised timeline, saying certification is progressing and that GE Aerospace has been hiring new employees and securing adequate raw materials for Catalyst production.
The flight-test programme's three Denali prototypes have completed 540 flights and logged 1,300h of flight-test time, says Corkery.
They have completed 16 of 22 planned engine certification tests and 26 of 37 component certification tests, and have performed hot-weather tests out of Yuma, Arizona and cold-temperature trails in northern Canada, executives say.
GE Aerospace says Catalyst will burn 20% less fuel than older comparable turboprops and provide as much as 10% "higher cruise power". The engine has a 16:1 pressure ratio.
On 8 May, Textron Aviation also says it will deliver Denalis with the "Garmin Emergency Autoland" system, integrated with the type's Garmin G3000 avionics package.
"The new feature is being implemented into the aircraft's development and flight-test programme, and will be available as a standard feature at time of entry into service," it says.
If a pilot becomes incapacitated, passengers can activate the auto-land system by pressing a button in the cockpit.
"The system immediately takes control of the aircraft and informs [air traffic control] of the emergency," Textron Aviation says. "It then calculates a flight path to the most-suitable airport or runway, while avoiding terrain and adverse weather, initiates a stabilised approach and automatically lands the aircraft, bringing it to a stop before shutting down the engine."
Denali will be capable of carrying six passengers in a standard configuration, and nine in a high-density layout. It will cruise at 285kt (528km/h) and have 1,600nm (2,963km) of range with four passengers, Textron Aviation says.