Textron Aviation is now selling a "gravel kit" modification for Cessna's newly certificated SkyCourier turboprop – an option intended to enable the aircraft to operate from remote, unfinished airstrips.
The modification aligns with the SkyCourier's utilitarian-centric design, giving "customers the flexibility to operate their aircraft in and out of unimproved runways around the world", Textron Aviation says in revealing the option on 7 February.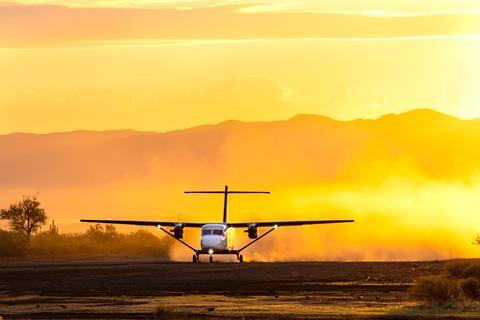 It plans this month to deliver the first gravel-kit-equipped SkyCourier.
Textron Aviation, which owns Cessna, does not disclose details about, nor the cost of, the modification. It did not immediately respond to a request for more information.
The company released a video showing an aircraft equipped with a device on its landing gear that appears designed to prevent the wheels from kicking up loose objects.
"The addition of this new gravel kit greatly enhances the already rugged reliability of the SkyCourier," says Textron Aviation senior vice-president of sales and flight operations Lannie O'Bannion.
The modification kit will open SkyCourier to consideration by new customers, including governments, law enforcement agencies, militaries, humanitarian groups and operators of air ambulance and cargo aircraft, Textron Aviation adds.
Powered by twin Pratt & Whitney PT6A-65SC turboprops, SkyCourier has capacity to carry 19 passengers or 2,722kg (6,000lb) of cargo payload, and range of about 900nm (1,667km), according to Cessna.
Textron Aviation launched the SkyCourier programme in November 2017 with an order from launch customer FedEx. The Federal Aviation Administration issued SkyCourier's type certificate in March 2022, and in May Textron Aviation disclosed it had delivered the first of the type, to FedEx.
Textron Aviation has now delivered three SkyCouriers – all to FedEx – and holds outstanding orders for 51 of the type, according to Cirium fleets data.