Textron Aviation's first-quarter profit tumbled 97% year-on-year to $3 million due largely to an idle factory floor and sagging aircraft sales amid the coronavirus pandemic.
The Wichita-based airframer delivered 23 Cessna Citation jets in the first quarter, roughly half of the 44 jets delivered in the same period last year.
Deliveries declined across the Citation line, with Textron handing over three M2s, three CJ3+, four CJ4s, two XLS+, seven Latitudes, two Sovereign+ and two of the company's flagship Longitudes.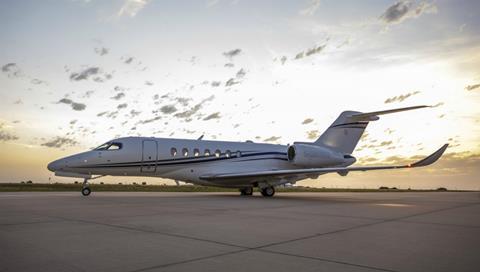 In the quarter, Textron delivered 16 commercial turboprops, including five Caravans and 11 King Airs. It delivered 44 commercial turboprops in the same quarter of 2019.
"We did see several deliveries push out of the quarter resulting from customers' inability to accept aircraft due to Covid-19 travel restrictions," says Textron chief executive Scott Donnelly.
The airframer, a division of Providence-based Textron, generated $872 million in first-quarter revenue, down 23% year-on-year.
"As government travel restrictions and other social distancing guidelines were implemented, we experienced a pause in sales activity, as face-to-face meetings and demonstration flights became increasingly difficult to conduct," Donnelly says. "These actions led to the decline in retail order activity."
During the first quarter, the airframer temporarily shuttered manufacturing facilities and furloughed staff due to coronavirus. Textron has extended the still-ongoing shutdown and furloughs from four weeks to eight weeks.
The value of Textron Aviation's backlog stood at $1.4 billion at the quarter's end, down from $2 billion one year earlier. A "revised demand outlook" by fractional aircraft customer NetJets pushed down the backlog value by some $290 million in the first quarter, Donnelly says.
In March, Textron completed "engine ground runs" of its in-development Cessna SkyCourier utility turboprop. It expects the twin-Pratt & Whitney PT6A-65SC-powered aircraft will fly for the first time this quarter.