Textron Aviation's third-quarter revenue jumped nearly 50% year-on-year amid a booming business aircraft market that has left the Wichita airframer with considerable leverage to set and hold firm aircraft prices.
Scott Donnelly, chief executive of Providence-based parent Textron, describes the business aviation market as "extremely favourable", noting that used aircraft availability is at "record low numbers".
Speaking during Textron's 28 October earnings call, Donnelly also downplayed the risk of supply chain constraints and warned Textron will loss staff due to the US government's Covid-19 vaccine mandate.
"We are in the process of ramping production. We see demand [for] everything from charters to memberships to fractionals to whole aircraft," Donnelly says. "The dynamic overall in pricing is much better than it's been in a very long time."
Textron Aviation earned a $98 million profit in the third quarter; it lost $29 million in the same period of 2020.
The airframer's third-quarter revenue ballooned 49% year-on-year to $1.2 billion. Sales of Cessna Citation jets, commercial turboprops and aftermarket services were up.
In the third quarter alone, Textron Aviation added orders worth $721 million to its backlog, ending the period with a backlog valued at $3.5 billion. That is nearly twice the backlog's $1.8 billion value one year prior.
US customers account for about half the backlog value, Donnelly says.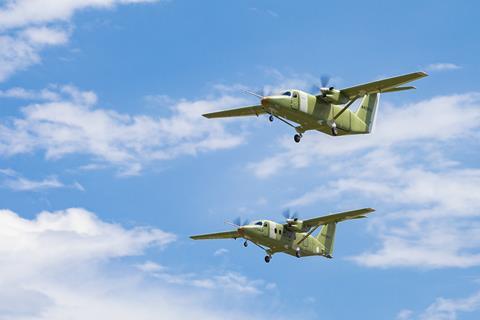 Textron Aviation delivered 84 aircraft (including 49 jets and 35 commercial turboprops) in the third quarter, up from 46 deliveries (25 jets, 21 turboprops) in the same period of 2020.
During the third quarter, Textron revealed it is developing updated variants of its Cessna Citation M2 light jet and Citation XLS midsize jet. Textron calls the new variants the M2 Gen2 and XLS Gen2.
Textron Aviation's subsidiary Cessna continues development and certification of its 19-passenger, twin-turboprop SkyCourier, while subsidiary Beechcraft progresses in bringing its 11-person single-turboprop Denali to market.
SkyCourier, which Cessna aims to have in service this year, has completed some 1,600h of flight testing, and Beechcraft recently completed "initial ground engine runs" of Denali. Textron has said Denali, which is powered by GE Aviation's new Catalyst engine, will make first flight this year and be certificated in 2023.
Textron's helicopter business Bell earned a $105 million profit in the third quarter, down from a $119 million profit in the same period of 2020. Bell's third-quarter revenue inched down 3% year-on-year to $769 million.
The helicopter maker ended the third quarter with a backlog valued at $4.1 billion, down from $5.7 billion one year earlier. Bell delivered 33 commercial helicopters in the third quarter, down from 41 in the third quarter of 2020.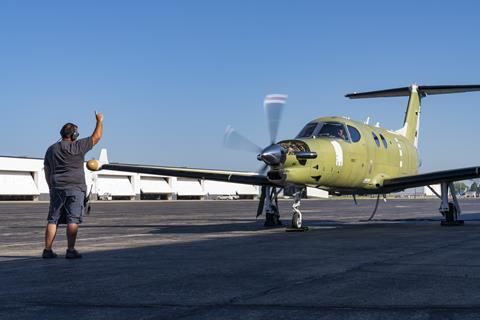 SUFFICIENT SUPPLY CHAIN
Unlike executives at other airframers, Donnelly does not expect supply chain problems will significantly impact Textron's aerospace divisions.
"We are not seeing big issues right now in the supply chain associated with the [aerospace and defence] businesses," he says.
In recent days, executives at major companies like Boeing and Raytheon warned of looming supply chain constraints.
But Donnelly downplays such concerns.
"There is capacity in the supply chain. Most of our critical suppliers in the [aerospace and defence] space are able to meet our demand," he says. "We [do not] think we are going to be supplier-constrained at this stage of the game."
That is because, Donnelly says, many Textron suppliers were kept busy amid the pandemic with government contract work; they did not shutter operations. Boeing's and Airbus's production cuts have also left some suppliers with extra capacity, he adds.
VACCINE MANDATE
Textron finds itself in what Donnelly describes as the unwelcome position of needing to comply with President Joe Biden's Covid-19 vaccine requirement for government contractors' employees.
"It's a curve ball we wish we didn't have, but we are managing through it," Donnelly says of the mandate. "It's created a lot of noise. It's been not-terribly-well received by a sizeable portion of our employees."
"There is no question we are going to lose some employees because of this," Donnelly adds. He says Textron will compensate by ramping new-employee hiring.