Textron Aviation has performed the maiden sortie of its in-development Beechcraft Denali single-engined turboprop, kicking off the flight-testing phase.
The Wichita, Kansas-based airframer said on 23 November that the aircraft took off at 08:20 local time and flew for 2h 50min.
During the flight, the pilots tested the aircraft's performance, stability and control, as well as propulsion, environmental, flight controls and avionics systems.
The prototype reached an altitude of 15,600ft above sea level and hit speeds of 180kt (333km/h), Textron Aviation says.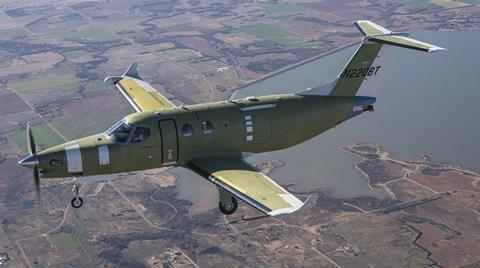 "With its more environmentally-friendly engine and largest cabin in its class, this is an aircraft that will change the landscape for high-performance single-engined turboprop aircraft," says Ron Draper, Textron Aviation chief executive.
"Today's flight is just the beginning for what we anticipate will be a long list of important accomplishments as we prepare the aircraft for certification and customer deliveries."
The pilots describe the aircraft's performance as "flawless" and "to the levels we were anticipating".
"First flights really can't go more smoothly than this," says senior test pilot Peter Gracey.
Powered by GE Aviation's FADEC-equipped Catalyst engine, the Denali should have a 20% fuel-burn advantage over aircraft using older turboprop engines.
"The Denali prototype aircraft, along with two additional flight-test articles and three full airframe ground-test articles, will continue to expand on operational goals, focusing on testing aircraft systems, engine, avionics and overall performance," Textron Aviation adds.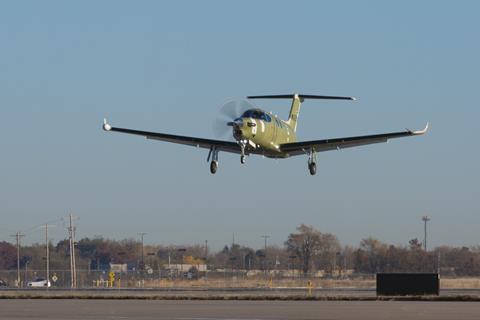 When the Denali was unveiled in 2015, it was expected to fly in 2019, with certification following about 18 months later. However, delays to the development of the 1,300shp (970kW) Catalyst had a knock-on effect on the aircraft's timeline. Textron is now targeting certification in 2023.
Although launched as a Cessna aircraft, parent Textron Aviation decided to "realign" its turboprop offering, bringing the Denali under the Beechcraft banner alongside the twin-engined King Air family.
The Denali promises a cruise speed of 285kt and a range of 1,600nm (2,960km) with one pilot and four passengers. But the standard configuration seats six passengers, or nine in a high-density layout.