Tine Tomazic is in a great mood on this July afternoon. Pipistrel's director of engineering and programmes is sitting on the balcony of Textron Aviation's pavilion at EAA AirVenture in Oshkosh, Wisconsin, surveying his stable of aircraft displayed on the grass below – and dreaming big.
He has been to Oshkosh often, but this visit is different.
Tomazic has brought four of his favourite Pipistrel models to this year's show – a four-seat Panthera, an all-electric two-seat Velis Electro, a Sinus motor glider and an Alpha Trainer – to show potential customers what the future of flight training could look like.
"This year is particularly special, because the Federal Aviation Administration has just published the draft of the MOSAIC rules, which we think will open the door for innovation here in the US," he tells FlightGlobal. "We're excited that the MOSAIC rules appear to be an exact perfect fit for the Pipistrel aeroplanes."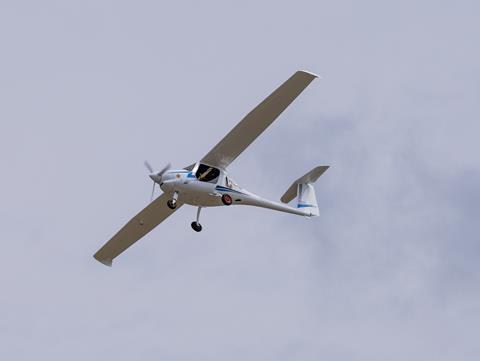 MOSAIC, the acronym for the FAA's proposed "Modernization of Special Airworthiness Certification" rule, published just a week before the show, is key for Pipistrel to begin selling its light trainers here in the USA in grand style.
MOSAIC expands the definition of light sport aircraft, and Tomazic says it is tailor-made for Pipistrel's light-weight carbon-composite models.
The FAA proposes to amend the specifications for the manufacture, certification, operation, maintenance, and alteration of the light sport aircraft. "The proposed amendments would enable enhancements in safety and performance and would increase privileges under a number of sport pilot and light-sport aircraft rules," the regulator said on 19 July.
Under the proposal, the aircraft's weight limit is based on its stall speed. By permitting higher stall speeds than those today – the suggestion is to increase the stall speed limit to 54kt from 45kt – it would bring aircraft weighing as much as 1,363kg (3,000lb) into the light sport aircraft regulatory framework. Currently the limit for light sport land aircraft is 600kg.
It also would allow pilots to use their aircraft for a wider range of operations, such as some aerial work, the FAA says. Pilots could operate aircraft designed with up to four seats, but would remain limited to operating with only one passenger.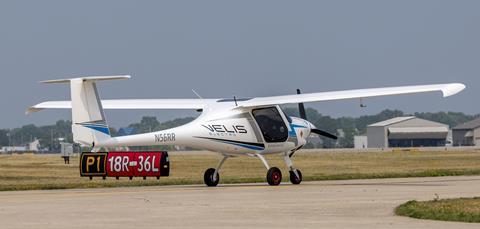 The FAA will accept public comment on the proposal until 23 October. Tomazic expects it to be uncontentious.
"I'm looking forward to a smooth implementation and next year we should see MOSAIC-compatible airplanes out here being delivered to customers, which will include quite a few of our models," he says.
Pipistrel has a two-seat aircraft called the Explorer, which has already been type-certified by the European Union Aviation Safety Agency (EASA) and validated as airworthy in several countries. While it meets most of the light sport criteria in the USA, "it's just too quick, too efficient and too capable for the current LSA rules", Tomazic says.
"MOSAIC will enable its arrival into the US skies as well."
NEW TECHNOLOGIES
Where light sport aircraft are currently required to fly below 120kt, Explorer is able to fly "135 or 140 knots", he says. The new proposal would set the top limit at 250kt. That's a notable improvement for cross-country trips, as well as training pilots who might later operate more powerful aircraft.
"It's important for future pilots who will go into cockpits of business jets and regional aircraft because this aircraft can actually showcase how arrival procedures feel like at higher speeds," he says. "It's just different if you fly an IFR approach at 90 knots or at 140 knots."
In addition, currently, light sport aircraft as defined by the FAA may only operate on a single piston engine, not an electric one, or any other alternative propulsion system. The new rule eliminates that restriction.
"MOSAIC will take away this archaic limitation that precluded the entrance of new [engines]," Tomazic adds. "We think it's a true door-opener open to innovation – clearly welcoming green propulsion, electric, hybrid – and we're looking forward to how we can almost instantly bring our models into this new category."
Pipistrel's Velis Electro was the first commercially available, all-electric aircraft to secure certification anywhere, following EASA approval for the two-seat type on 10 June 2020. In the meantime about 200 have been delivered to customers.
All told, it has about 2,700 aircraft flying globally.
BATTERY LIMITS
The limiting factor for all-electric engines is always battery capability and range, and that capability versus their price. While battery efficiency is increasing by about 5% every year, the cost of more powerful batteries is manyfold, and almost always outstrips their value to the trainer market.
"You are trading battery performance non-linearly with cost. That doesn't make sense for the pilot training segment which is a cost sensitive operation," says Tomazic.
Velis Electro has lower operating costs than a fossil-fuel-powered aircraft, in part because its batteries only have an endurance of about an hour of what he calls "active minutes" – the time the engine is actually running. The aircraft's engine is engineered to stop when it is not moving on the ground, for example at a holding point.
"The capability of the aircraft is to cater to what one student is able to take in in a given flight lesson," he says. Charging time is currently one hour, but the company is "closing in" on technology that will halve the time it takes to give the aircraft a full charge.
The type is operating in an almost exclusively flight school or flight club environment so far. "Because of the cost advantage of an electric plane, we see high utilisation on these aircraft; people who have them fly them a lot."
The Velis Electro is 100% built in-house, including its batteries, so the company is not reliant on a supply chain to deliver those components.
"And if there is a magic moment, some breakthrough in battery technology, I want it to be us that makes the first step in bringing it straight into the product."
The company's Alpha Trainer, which has an FAA certification as a light sport aircraft, is currently being used by regional carrier Mesa Airlines in a creative bid to attract pilots and pave an easier pathway for them to accumulate the aeronautical experience required to join an airline. Last September, Mesa announced plans to acquire 29 Pipistrel Alpha Trainer 2 aircraft, with an option to buy 75 more over the next year.
It is offering the aircraft to aviators in its Mesa Pilot Development Program at a cut-rate price, an initiative to attract new cockpit crew amid a pilot shortage that is affecting airlines across the industry.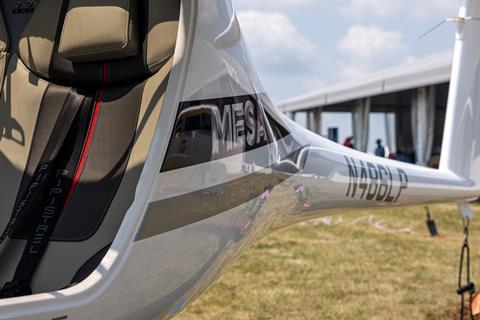 The airline views the two-seat aircraft as a cost-effective option for aspiring commercial pilots to build the 1,500 flight hours required before they can fly as first officers for airlines operating under Part 121 US regulations.
CANNIBALISATION?
Pipistrel was bought by Textron Aviation in April 2022 in a €218 million ($238 million) all-cash deal, bringing the operation into the US airframer's eAviation business unit, the company's newest. It has kept Pipistrel as a distinct brand, alongside fellow fixed-wing aircraft manufacturers Beechcraft and Cessna.
The company's headquarters, research and development and manufacturing facilities remain in Slovenia and Italy, as Textron plans additional investments in those sites to expand the firm's capabilities.
Coming under Textron's eAviation's wing has certainly helped the European airframer differentiate itself and gain an important foothold in the USA. But is the powerhouse airframer behind the most successful trainer aircraft in history – the Cessna 172 Skyhawk – cannibalising its own success?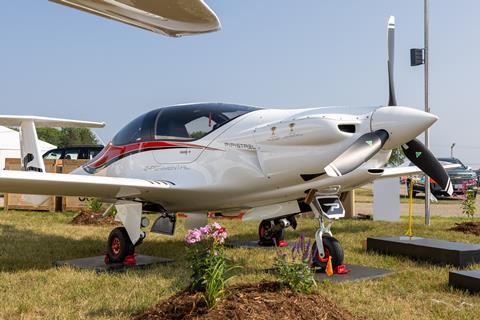 "While the 172 is a fantastic product on its own, it was not born for the purpose of pilot training. It happened to become one over time for lack of other options," Tomazic says.
The Pipistrel aircraft offer a cheaper, lighter, more efficient two-seat training option in the Textron family.
"Pipistrel coming into the Textron ecosystem offers other opportunities for the 172s of the world," he says. "I don't see this as one brand competing with the other. They are complementary."

Pilar Wolfsteller, Americas Air Transport Editor, is an FAA-certified flight instructor (CFI), and holds a commercial pilot certificate with instrument rating. She joined FlightGlobal in 2019, and is based in Las Vegas. She covers airlines across the hemisphere and her interests also include future-oriented sustainable aviation technology, advanced air mobility projects and pilot training topics. Pilar began her journalism career at the global news agencies Bloomberg and Reuters, and has reported from more than 50 countries.
View full Profile