Japan's Toyota Motor Corporation will supply Joby Aviation with "key powertrain and actuation components" for Joby's in-development electric vertical take-off and landing (eVTOL) aircraft.
"Our partnership with Toyota continues to be an integral part of Joby's success, from assisting in the design of our pilot production line in Marina, California, to supplying key components for our aircraft," JoeBen Bevirt, Joby founder and chief executive, said on 27 April.
Joby, the California-based aerospace company building small vertical-lift aircraft envisioned as air taxis, says the agreement builds on previous partnerships "on a wide variety of projects to support the production and assembly of the Joby aircraft". Toyota has also already invested about $400 million in Joby.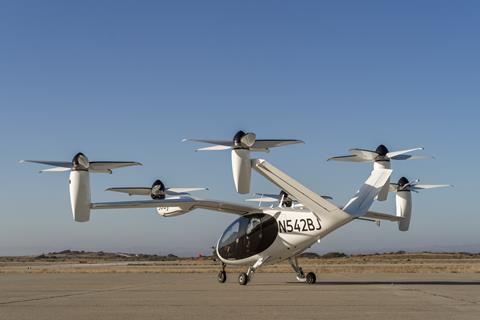 "The components, designed by Joby and manufactured by Toyota, will be delivered to Joby's powertrain and electronics manufacturing facility in San Carlos, California, before the finished assemblies are shipped to the company's pilot production line in Marina for integration," Joby says.
"Our mutual goal is mass production of eVTOL and helping Joby apply the best practices of the Toyota production system in meeting high quality, reliability, safety and strict cost standards," adds Keiji Yamamoto, president of Toyota Motor Corporation Connected Company.
"We are excited about the potential for further collaboration as we seek to realise mobility for all with a seamlessly integrated air-to-ground mobility network," he says.
Joby and Toyota first announced a partnership in January 2020. At the time, the carmaker said its primary interest was providing mobility for all by leveraging emerging technologies. In addition to investing $394 million in Joby, Toyota would "share its expertise in manufacturing, quality and cost controls for the development and production of Joby Aviation's breakthrough eVTOL aircraft".
Earlier this week, Joby disclosed a $55 million extension to its Agility Prime contract with the US Air Force (USAF) to deliver and operate up to nine of its yet-to-be-certificated aircraft. That brings the value of Joby's contract with USAF to $131 million.
Considered a leader in the eVTOL industry's race to market, along with California-based competitor Archer Aviation, Joby aims for its eVTOL to be flying passengers in 2025.