US aerospace supplier Triumph Group has laid off 200 additional staffers and will furlough 2,300 workers in response to the ongoing shutdown of Boeing's commercial aircraft production facilities.
The Berwyn, Pennsylvania-based company has also shuttered two facilities in Mexico that employ 1,900 workers due to a government-mandated 30-day closure of non-essential operations.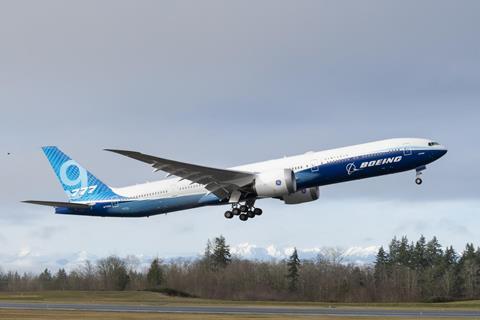 Triumph had already, on 24 March, announced plans to lay off 250 salaried staff and to cut 250 contractors.
The additional 200 layoffs, which affect full-time positions, will be completed by 1 May, Triumph says on 10 April.
The newly-announced furloughs of 2,300 staff will impact workers at Triumph's sites in the USA and Europe. Those sites will remain open, and affected workers will be off the job for two to four weeks "to reduce capacity associated with Boeing Commercial Aircraft programmes", the company says.
Boeing has temporarily shut commercial production sites in Washington and South Carolina due to the coronavirus pandemic.
Triumph has not yet released fiscal year 2020 results, but Boeing work accounted for 31% of its $3.4 billion in FY2019 annual sales, according to its FY2019 financial filing. Work for business jet maker Gulfstream, which also recently laid off staff (though in 2019, before the pandemic took hold in the USA), accounted for 11% of Triumph's FY2019 sales.
"A significant reduction in sales to Boeing and/or Gulfstream may have a material adverse impact on our financial position, results of operations and cash flows," says Triumph's FY2019 report.
Triumph shuttered the two Mexico sites – in Zacatecas and Mexicali – on 31 March, it says. The company performs aerostructures work in those locations, according to its website.
"Our prior restructuring and austerity actions, and those listed above, preserve Triumph's liquidity while customers' plants are closed and allow Triumph to continue to support its customers' forecasted rates of production," the company says. "Further workforce adjustments may be required based on site closures or changes in demand for Triumph's products and services."
In addition to the staff reductions, Triumph says it will "adjust its supply chain demand consistent with updated OEM production and aftermarket forecasts".
Triumph has "adequate liquidity to support our operational requirements", it adds.
In March, Triumph said it had increased its cash and other available liquidity to more than $500 million and estimated cost-cutting measures will save it $75 million in FY 2021, which started 1 April.