Limited availability of CFM International turbofans is the chief parts shortage hindering Boeing's ability to ramp 737 production.
That is according to Boeing Commercial Airplanes chief executive Stan Deal, who addressed the airframer's challenges on 17 July in London.
"They're behind," Deal said of CFM's supply of the Leap-1B turbofans that power the 737 Max.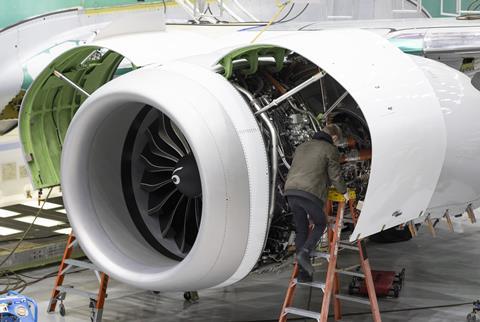 "Our big focus today is on engines… that's one of our big constraints," Deal added. "I put the engines [at] number one right now."
Deal did not elaborate on Boeing's limited supply of turbofans. GE Aviation and Safran co-own CFM.
Despite such issues, Boeing in recent weeks said it reached its goal of hiking 737 production to 31 jets monthly.
"Last month we did output 31 from the factory", Deal said.
But Boeing has cautioned that production rates could waver month to month. The company had struggled to hit the 31-monthly rate amid parts shortages, with executives previously citing insufficient quantities of wiring connectors.
Boeing has also been working to hire sufficient numbers of workers to ensure the stability of production. It has been adding back staff after letting workers go amid the pandemic.
Deal says Boeing "underestimated" its ability to rehire former employees.
"That labour that left, that we thought would come back, didn't," Deal says. "That is one of the major contributors to supply chain performance today."
Boeing has since "been able to attract" new employees, but has also needed to adjust wages to attract workers, Deal adds.
GE Aviation CEO Lawrence Culp addressed CFM's production on 26 July.
He said "supply chain challenges" have left CFM unable to deliver as many engines as airframers need.
Culp, however, said GE is working with suppliers – specifically those of cast and forged engine components – to increase production.
"We are seeing signs of improvement," he said.
Story corrected on 2 September 2022 to note that Deal said Boeing reached a 31-per-month 737 production rate in the previous month, not in July.