Developing new aircraft powered by novel technologies such as un-ducted fans and hydrogen-burning engines remains essentially infeasible without billions and billions of dollars in direct government aid.
That is according to the president of Emirates Airline, Tim Clark. He questions whether the industry has a chance of cutting its carbon output without massive help from government.
"The cost of that aeroplane is going to be astronomical," Clark says on 5 October, speaking of a conceptual single-aisle aircraft powered by CFM International's propfan concept.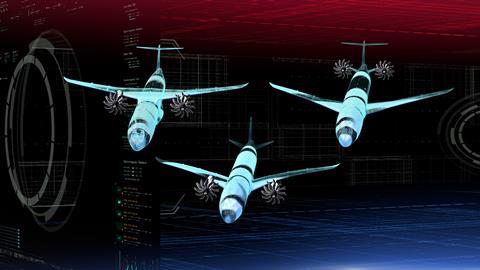 In additional to developing the engine technology, that project requires a new wing, he notes.
"Therefore, the ability to fly that [aircraft] under… a business model that deals with the kind of pricing points we've got in the market – that is going to be very difficult," Clark says, speaking during IATA's World Air Transport Summit in Boston.
His comments came in response to questions about the viability of industry-led projects aimed at helping aviation reach its net-zero carbon-output goal for 2050.
"To do nothing was asking for trouble," Clark says of IATA's pledge, which the group set on 4 October. "These are hugely laudable and challenging goals."
He also cites the enormous cost of developing a hydrogen aircraft. Airbus is working to bring such an aircraft to market in the mid-2030s.
As a fuel, hydrogen must be in liquid form, meaning it must be kept colder than about 250°C (-418°F). That is partly why creating a new hydrogen-fuel infrastructure is so expensive, he says.
"But… who is going to spend all this money? Is it the aircraft manufacturers?" Clark says. "What's the business case?"
Clark thinks significant carbon reduction requires investment by government to the tune of, say, "half a trillion dollars". Problem is, the world's governments are fresh off dishing out billions of dollars in Covid-19 relief programmes, he notes.
"For the good of mankind going forward, we cannot pass this half a trillion dollars on to the consumers," Clark says.