The union representing Boeing's Washington state workforce has warned members that the airframer may seek to renegotiate contract terms as it considers closing one of two 787 production facilities.
Currently, Boeing produces 787s in Everett and North Charleston, South Carolina. But last month, the company slashed Dreamliner production rates, and chief executive David Calhoun said the company was reviewing the "feasibility of consolidating our 787 production into one location".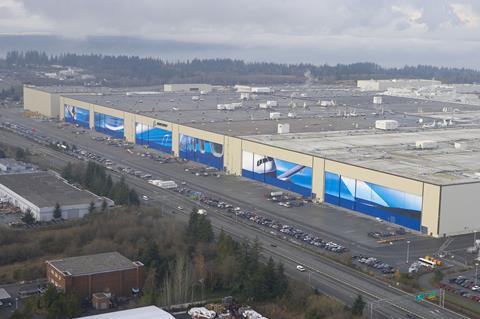 The International Association of Machinists and Aerospace Workers' District 751 union (IAM) has now warned members that Boeing might seek to renegotiate contract terms as part of that review.
"We have been made aware through conversations with elected officials, and notified by the media, that Boeing indicated they want to talk to the IAM about further flexibilities and efficiencies," said the union in a 21 August memo to members.
"We don't have details of what they want from the union," the memo says. "There have not been any discussion on this topic between Boeing and the IAM."
Boeing did not immediately respond to a request for comment and the IAM did not provide additional information.
But analysts have predicted Boeing may shift most or all 787 work to the non-unionised South Carolina facility.
The IAM's letter says the union must "expect and prepare for" the likelihood that Boeing will seek to open talks before the IAM-Boeing employment contract expires in 2024.
At the end of 2019, IAM represented some 35,400 Boeing workers, or 22% of the company's 161,000-strong workforce, Boeing's financial filing for that year says.
But earlier this year Boeing said it was laying off some 19,000 workers in response to the market downturn. It has since implemented "a second voluntary" wave of job cuts.
Boeing has also slashed commercial aircraft production across its product lines. It plans to produce six 787s monthly in 2021, down from 14 monthly prior to the pandemic.
In its 21 August letter to members, IAM rails against Boeing for "talking to everyone else but the union".
"It is what they do in these situations," IAM says of Boeing. "They are attempting to align the politicians and the media in order to exert maximum pressure… Boeing will work to turn the public against us."
Boeing's evaluation of its 787 production footprint also follows the repeal earlier this year of a Washington state tax break that benefitted the airframer and other aerospace manufacturers.
Since 2007 the state had taxed aerospace firms at 0.2904% – 40% less than the general 0.484% state tax on manufacturing sales.
The state eliminated that break starting 1 April. But, it left a door open to trim the tax to 0.357% if the European Union agrees to settle a US-EU trade spat related to commercial aircraft subsidies.
The IAM says it "worked hard" to support the previous tax break, and that Boeing still moved forward with opening the second 787 production facility in North Charleston. Boeing completed its acquisition of that site in 2009, and the first jet rolled off the South Carolina line in 2012.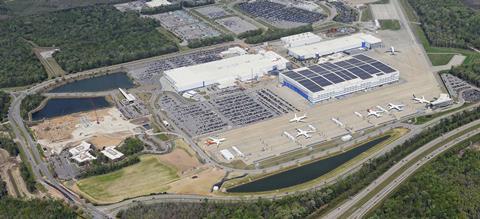 "Now, they are threatening our members and the communities we live in once again with the 787 production being completely removed from Washington state," IAM says of Boeing in its 21 August memo. "The promise of the 787 may turn out to be the biggest disappointment that our community has invested in and counted on."
Michel Merluzeau, analyst with consultancy AIR, views Boeing's recent statements as evidence the company may move "most, if not all" 787 work to the lower-cost South Carolina site.
However, he notes some Boeing customers have expressed unwillingness to take delivery of North Charleston-produced jets due to quality problems.
That factor could persuade Boeing to leave some 787 work in Everett, Merluzeau says.
Richard Aboulafia, analyst with Teal Group, agrees that Boeing is tilting toward North Charleston. In July he predicted the Everett 787 production line could "go away", though he added that Boeing might retain some 787 work there.