United Airlines has agreed to purchase 15 of Boom Supersonic's in-development faster-than-sound airliner Overture, joining at least two other airlines that have partnered with Boom.
A "commercial agreement" between Chicago-based United and Denver-based Boom calls for the airline to buy 15 of the jets "once Overture meets United's demanding safety, operating and sustainability requirements", United says on 3 June.
The carrier has taken options to purchase an additional 35 Overtures.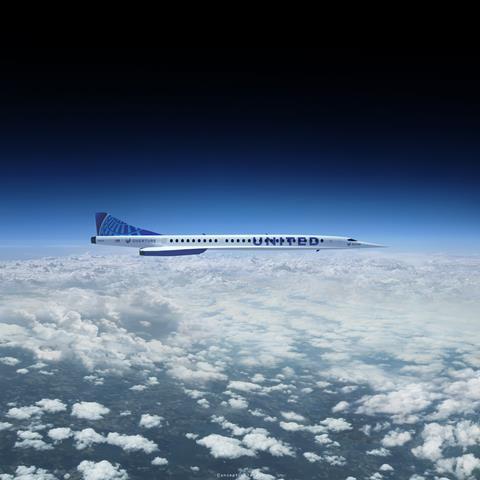 While the deal throws fresh momentum behind Boom, it comes one week after competitor Aerion announced it was folding amid financial pressure. Aerion's struggle highlighted the extreme financial burden required to bring a supersonic airliner from concept to certification.
United says it put some money down as part of its agreement with Boom but declines to say how much.
Richard Aboulafia, aerospace consultant with Teal Group, says such purchase deals for next-generation in-development aircraft typically involve little money changing hands.
"This is the ultimate value in free advertising, for all parties involved," Aboulafia says. "New-start aero companies have figured out that soft order announcements generate tons of publicity, and perhaps even investor attention".
"Maybe less sophisticated investors will even see it as evidence of commercial activity," he adds.
United says Overture will be "optimised to run on 100% sustainable aviation fuel" (SAF), which is also known as biofuel and is produced from biomass such as plants and household waste. The companies have also agreed "to work together to accelerate production of greater supplies of SAF", United says.
Aboulafia notes, however, that supersonic jets "simply burn much more fuel per seat and per mile than subsonic jets. Emissions are generally higher too".
"United continues to position itself as environmentally friendly, an idea that now looks a bit ridiculous," he says. "But then again since this plane is completely notional, it really doesn't matter much."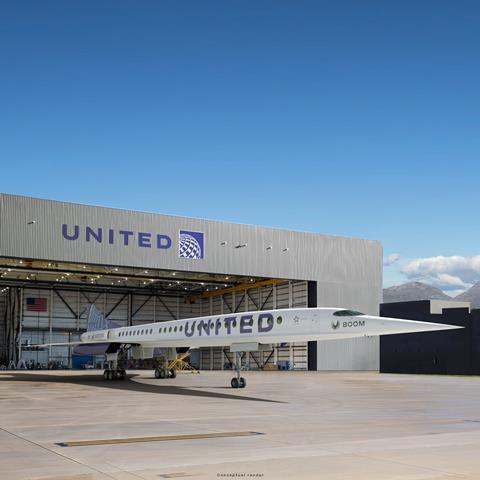 Boom is working to develop Overture under a timeline that has the jet taking first flight in 2026 and carrying passengers in 2029. The developer plans to roll out Overture in 2023.
Boom advertises the jet as carrying 65-88 passengers, having 4,250nm (7,871km)-range and being capable of flying at Mach 1.7. That would allow Overture to fly between, for instance, New York and London in 3h 30min, Boom says. Rolls-Royce has come aboard as an Overture engine partner.
In addition to United, Boom has said it holds "pre-orders" for Overture from Japan Airlines and Virgin Group. The company in 2020 rolled out a supersonic demonstrator called XB-1, which Boom intends to use to evaluate technologies for use in Overture.
Supersonic commercial travel has been technologically feasible for decades but faces ongoing hurdles in the form of regulatory challenges, public acceptance due to disruptive sonic booms and commercial feasibility. Air France and British Airways long struggled to make BAC-Aerospatiale's Concorde, which was retired in 2003, commercially viable.
Prior to folding, Aerion had been developing a supersonic business called AS2, for which it had secured purchase commitments from business-jet operators NetJets and Flexjet.
The cost of supersonic development projects can run into the billions, leaving even established aerospace players reluctant to take the supersonic plunge.
United has in recent months revealed several initiatives related to sustainability and next-generation aircraft technology. In February, the airline said it had ordered 200 air taxies being developed by Archer Aviation. United in April disclosed an effort to advance investment in, and development of, biofuel.
Burning SAF releases carbon that had previously been absorbed by the atmosphere, making the fuel's CO2 impact nearly neutral, according to IATA. Commercial jets are currently permitted under regulations to burn fuels composed of 50% biofuel, though the industry is working to achieve certification to fly on 100% biofuel.