Alternative fuel developer Universal Hydrogen has formed an advisory panel composed of former top-level Airbus executives, including former chief executive Tom Enders and former chief commercial officer (CCO) John Leahy.
The panel also includes officials who previously held top posts at the Federal Aviation Administration.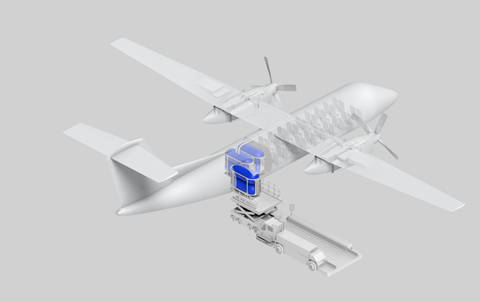 Los Angeles-based Universal is working to develop a hydrogen fuel distribution system – perhaps the type of system Airbus might need to support its conceptual hydrogen-powered passenger aircraft.
In disclosing the make up of its advisory board, Universal notes it has also secured more funding and hired Rod Williams, a former executive at Bombardier and private aviation company Wheels Up, as CCO.
Enders had been Airbus CEO from 2012 to 2019 and is currently a board member of Lufthansa, UK gas company Linde and German air taxi developer Lilium. Leahy was Airbus sales chief until leaving the company several years ago.
Former FAA officials on Universal's "strategic advisory board" include Carl Burleson, who has been the FAA's acting deputy administrator, and Lourdes Maurice, who headed the agency's office of environment and energy.
Universal has also secured an investment from San Francisco-based Trucks Venture Capital. Universal declines to disclose how much investment it received.
"With this financing, Universal Hydrogen is scaling up its engineering team in Los Angeles, building full-scale gaseous and liquid hydrogen modules, and testing an 'iron bird' prototype of a fuel-cell power train suitable for regional and eVTOL applications," Universal says.
It intends to achieve those goals by the second quarter of 2021.
Universal was co-founded in 2020 by its CEO Paul Eremenko, and Enders' engagement with the company is the second notable collaboration between the two. The former Airbus chief had hired Eremenko in 2015 to lead the Toulouse-based airframer's Silicon Valley innovation centre. Eremenko went on to become Airbus' chief technology officer in 2016 and later served in the same role at Raytheon Technologies, then known as United Technologies.
The start-up aims to develop a hydrogen-fuel supply system based around fuel "capsules". Universal would fill the capsules at hydrogen production sites and ship them to airports via existing global freight networks. To demonstrate the technology, Universal is also modifying a De Havilland Canada Dash 8-300 to have a hydrogen fuel system.
Universal's effort comes as Airbus progresses with development of hydrogen-powered conceptual aircraft it unveiled in 2020. The European airframer has said such aircraft, which it dubbs "ZEROe", could be operational in 2035.