Aviation start-up Universal Hydrogen has kicked off an expected two-year process of flight-testing its hydrogen-propulsion modified De Havilland Dash 8-300 turboprop.
The California company on 26 September said it began the "flight-test and maturation campaign" with a 20min flight from the Mojave Air & Space Port in California.
During the flight, pilots retracted the aircraft's flaps and landing gear and ascended to 5,000ft. They also flew the Dash 8 with its hydrogen-fuel-cell propulsion system running at full power and its single Pratt & Whitney PW123 turboprop throttled back, letting the team measure noise.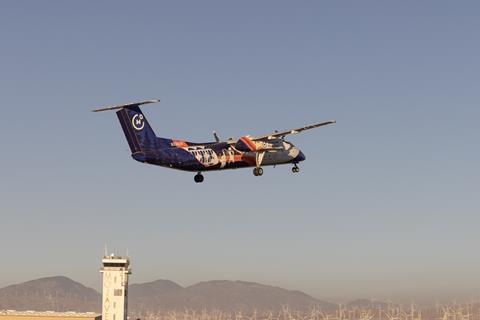 "Today's flight marks the beginning of a two-year flight-test campaign that will first continue to optimise the performance of the hydrogen fuel cell powertrain," says Universal.
It adds that a new "turbo-compressor" will allow the modified aircraft to fly as high as 25,000ft
During the flight-test campaign, Universal will also test its "modular" hydrogen storage system and "commence certification testing to prove that the production configuration of the aircraft meets all" Federal Aviation Administration airworthiness and safety requirements.
Universal has said it aims to have a hydrogen-power modified aircraft in service in 2025.
The company replaced the Dash 8's right-side PW123 with a prototype hydrogen-fuel-cell propulsion unit. The package includes the fuel cell system supplied by New York company Plug Power. It generates electricity to power a Magnix-made 872hp (650kW) Magni650 electric motor, which turns a prop.
Universal completed first flight of the modified Dash 8 on 2 March, and in June ferried the aircraft to Mojave.
It is seeking supplemental type certificates for fuel-cell retrofits of both Dash 8s and ATR 72 turboprops. Universal is also developing a hydrogen storage and distribution network.