At first glance, the US commercial aerospace industry might seem to be enjoying a broad and rapid recovery from the lows seen at the height of the pandemic.
But appearances can be deceiving.
Yes, Boeing in 2022 managed to significantly ramp up aircraft deliveries, but many of those were jets from the airframer's inventory – built months or years prior.
Boeing's actual aircraft production rates remain significantly depressed from last decade's highs – reflecting an aerospace industry struggling to keep up and facing what insiders describe as a long, difficult climb back to normalcy.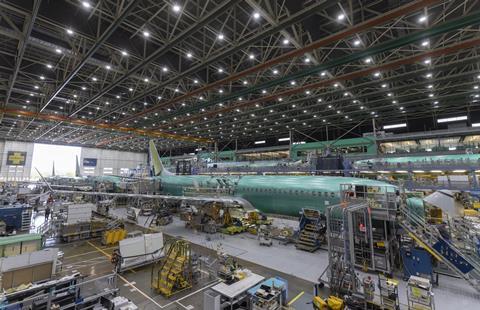 "The single biggest issue this year and into next year is labour. Trained, capable, skilled labour; white collar and blue collar," BofA Securities financial analyst Ron Epstein said this week during the Pacific Northwest Aerospace Alliance's (PNAA) annual suppliers conference near Seattle.
He and other analysts and executives say the US aerospace industry is in recovery mode. But attendees did not downplay the distance everyone must travel.
"Our biggest constraint is staffing," says Debbie Lee, chief executive of Tool Gauge, a Tacoma, Washington manufacturer of precision machined parts and other components for 737s and 787s. "As we ramp up [we are] trying to get people… in the door. I don't know where they went. I wish I knew."
BOTTLENECKS
Boeing in 2022 delivered 480 aircraft, up from 340 in 2021 thanks largely to a significant bump in 737 Max deliveries. The US manufacturer handed over 387 737s last year, up from 263 in 2021.
Boeing also resumed 787 deliveries in August 2022 after a pause due to fuselage-quality issues that lasted most of 22 months. The company delivered only 31 of the widebodies last year, up from 14 in 2021.
Those figures do indeed show improvement, but the US civil aerospace sector is actually recovering more slowly than deliveries suggest, says Richard Aboulafia, aerospace analyst with consultancy AeroDynamic Advisory.
That is because Boeing's production continues lagging its deliveries – a consequence of the manufacturer delivering many 737 Max that it produced during the type's 20-month grounding.
"If you were to filter out the jets that were already built, you'd see… the worst recovery ever," Aboulafia says. "This is really mediocre."
Boeing does not disclose actual production figures, but analysts estimate its 2022 output hovered around 25 737s and only a few 787s monthly.
Compare that to several years ago, when Boeing's factories were churning out 53 737s and 14 787s each month.
Those rates plummeted during the 737 Max grounding and the Covid-19 pandemic, with 787 quality problems adding to Boeing's woes – a rapid contraction that led companies along the supply chain to slash operations and lay off staff. Many workers took jobs in other sectors or left the workforce, perhaps never to return.
"People left the business," says Chris Celtruda, CEO of Valence Surface Technologies, a US metallic plating and coating provider. "Guys that I dealt with for 20 years… are on the beach now."
With demand finally rebounding, Boeing is now working feverishly to ramp up production.
The company aims in 2023 to deliver 30 to 40 737s monthly and to bring 787 production to five monthly. By 2025 or 2026, it hopes to be delivering 800 jets annually – equalling its 2018 output – supported by monthly production of 50 737s, 10 787s and four 777s.
"The actual demand drivers for airliners are in pretty good shape," Aboulafia says.
But much of the aerospace ecosystem is not. Boeing itself has been coping with parts and labour shortages, and quality problems affecting 737s and 787s.
Those issues are familiar to suppliers big and small, which have seen costs spike as they work feverishly to hire staff and raise output.
"We've increased [pay for] entry-level positions, to get people in the door, outside what we had even considered budgeting," says Lee of Tool Gauge, which cut its workforce from 230 to 86 during the pandemic. "We are doing everything that we can to keep our doors open."
"The salary expectations are crazy high," adds Valence's Celtruda.
Tom Gentile, chief executive of aerostructures supplier Spirit AeroSystems, told investors on 7 February that Spirit hired "a significant number" of new staff in 2022, but that those workers are "taking time to reach the same level of proficiency as the workers we had prior to the pandemic".
"We also experienced higher levels of attrition with the new employees we hired," he added. "Our suppliers encountered similar challenges, which resulted in higher levels of parts shortages."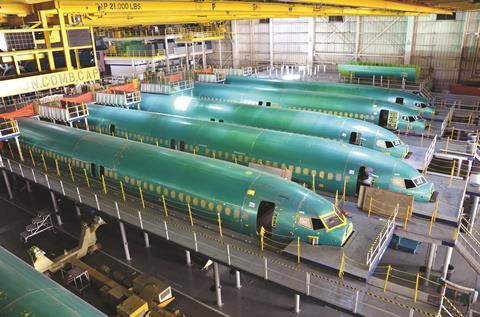 Orion Industries, a Washington state-based supplier to Boeing of precision machined parts and sub-assemblies, halved its workforce during the pandemic, says chief executive Jerry Chase.
Now Orion is rebounding. It expanded by 17% between 2021 and 2022 and aims to grow by 33% – hiring 30 people – this year. Those must be skilled workers who mesh with Orion's culture.
"We… are faced with trying to recruit people while everybody else is recruiting people," Chase says. "There are no shortcuts."
Not all suppliers are struggling with labour. Albany Engineered Composites, which makes composite fan blades and cases for CFM International Leap engines, has had minimal trouble recently hiring hundreds of workers, says senior vice-president of global customers and marketing Michael Dill.
That is largely because Albany, thanks to automated production processes, does not need as skilled a workforce as, say, producers of precision machined parts, Dill says.
It is those metallic components – notably castings, forgings and extrusions used to produce engine parts – that remain in shortest supply, says AeroDynamic's managing director Kevin Michaels.
"These are all bottlenecks," he says, adding that labour shortages seem worse in the US than Europe, possibly due to European labour laws that make layoffs more difficult.
Boeing CEO David Calhoun also singled out engine shortages, saying last year that 737 Max production was being held up by a dearth of Leap-1B engines. Boeing executives also said the 737 line has suffered from quality problems.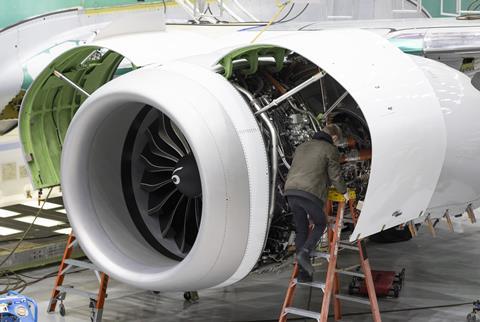 Boeing is not alone. Supply chain issues, including engine shortages, have been limiting Airbus's output. The European company has been more aggressive than Boeing with production goals – throwing out high numbers, one aerospace executive says, then backpedaling to align with what CFM and Pratt & Whitney can actually deliver.
Airbus in mid-2022 delayed by six months, until early 2024, its goal of producing 65 A320neo-family jets monthly. It also missed its 2022 delivery goal by nearly 40 jets.
The aerospace industry's ramp-up does not come cheap either. In addition to increasing labour expenses, companies must invest in infrastructure and shell out cash to pay their own suppliers. Some lack sufficient capital.
"There are some working capital challenges," says Celtruda. "I think we will see some insolvencies… I don't think it's [going] to bring down the supply chain."
Some of Tool Gauge's suppliers are "having trouble paying their bills… Cash-flow's tough right now", Lee says.
The crunch is exacerbated because many suppliers, after delivering products to Airbus and Boeing, must wait 90 to 120 days to be paid – while in some cases needing to pay their own suppliers within 30 days.
Meanwhile, securing bank loans has become tougher and interest rates have jumped.
"A lot of the commercial banks aren't as keen to lend as they were," Epstein says, adding that private equity firms might find attractive takeover targets in the coming months.
"The sharks are swimming around. They smell blood," he says.
Insiders say some companies are helping others deal with cash concerns, such as by offering temporary early payment arrangements.
"If [suppliers] are able to execute on these higher rates, it will be because of more direct investment by Boeing and tier one suppliers," says RBC Capital Markets aerospace and defence analyst Ken Herbert.