Several US airlines have agreed to provide technical advice in support of Boeing's project with NASA to develop the X-66A truss-braced-wing demonstrator aircraft.
Alaska Airlines, American Airlines, Delta Air Lines, Southwest Airlines and United Airlines have joined the programme as advisers, Boeing says on 25 July.
On the same day, NASA also released an image showing the paint scheme with which it intends to adorn the demonstrator.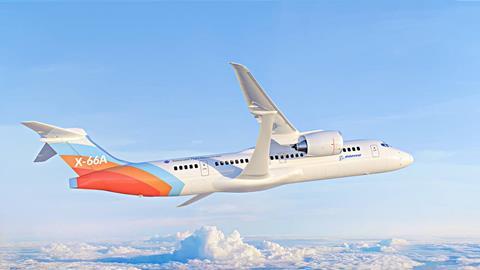 The airlines "will provide input on operational efficiencies, maintenance, handling characteristics and airport compatibility", Boeing says.
Boeing is developing the X-66A as part of NASA's Sustainable Flight Demonstrator project. The US agency has said the aircraft will enable it and partners to test various fuel-efficiency improving technologies, including Boeing's "Transonic Truss-Braced Wing" design.
The demonstrator's wings will be mounted above its fuselage and supported by trusses. Those trusses will enable designers to give X-66A longer wings, which translates into improved efficiency. Other technologies to be tested using the demonstrator include more-efficient turbofans and open-rotor engines.
Boeing is developing the aircraft at its site in Palmdale, California, using a significantly modified MD-90 fuselage as its structure. NASA aims for the demonstrator to fly in 2028.
"Hearing directly from the operators during all phases of the Sustainable Flight Demonstrator project will help us understand exact requirements and trade-offs," says Boeing chief technology officer Todd Citron. "The airlines' feedback will significantly contribute to the X-66A project learning.