Some US aviation groups are concerned about the safety of electric air taxis and other in-development novel aircraft, while warning about strained electricity grids and other practical challenges.
"ALPA is concerned with aircraft battery standards, and the use of batteries as the sole energy source for aircraft propulsion," the Air Line Pilots Association, International (ALPA) pilot union told the Federal Aviation Administration in a 16 August letter.
ALPA urges the FAA to evaluate "whether the safety baseline of this functionality can be performed reliably and repeatedly".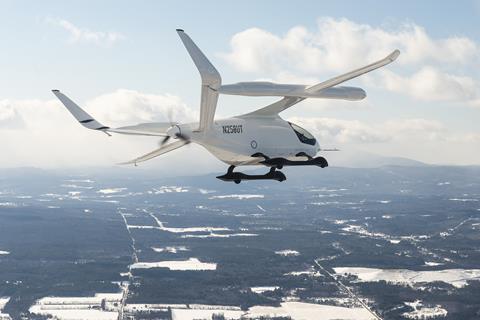 The pilot union is among several advocacy groups to recently submit comments to the FAA about how the agency should oversee "advanced air mobility" (AAM). That sector broadly includes highly automated electric air taxis, and electric and hybrid-electric fixed-wing aircraft, now under development by numerous start-ups.
The FAA in May had requested industry feedback to support its project to create an "AAM National Strategy" by 2024, as required by the US Congress.
Aircraft developers – companies like Archer Aviation, Beta Technologies, Joby Aviation and Heart Aerospace – insist their concepts will revolutionise short- and medium-distance travel, with significantly less carbon emitted. Many aim to have models certificated within a few years.
But lobby groups representing aviation heavyweights are now flagging potential issues, and doing so just as the FAA is formulating how it will oversee the sector.
"Lower-flying aircraft operating closer to buildings and the ground have a reduced time period for pilots to overcome mechanical issues during flight," the Transport Workers Union of America (TWU), which represents aircraft mechanics and other workers, told the FAA in a 16 August letter. "AAM aircraft present an increased risk to our transportation system due to maintenance issues."
The union therefore urges the FAA to require air taxi operators to use human dispatchers and to require the mechanics to hold "traditional airframe and powerplant certifications".
Lobby groups also doubt that fully autonomous aircraft are close at hand.
"The TWU believes it is unlikely that uncrewed aircraft will ever demonstrate a sufficient level of safety to carry passengers low to the ground in urban areas", the letter says.
"It is far too soon to believe that highly automated technology has undergone the proper vetting to be allowed," ALPA adds. "Without having years of data and safety risk justifications to prove that these technologies are safe and trainable, it would be very naive to believe that levels of high automation can replace having two pilots onboard an aircraft."
Broadly speaking, air taxi developers intend for their initial designs to be operated by single human pilots. They eventually plan to develop fully autonomous iterations, a shift viewed by the industry as critical to maximising operating economics.
Some start-ups think full autonomy is around the corner.
Those include California firm Reliable Robotics, which is working to certificate a fully autonomous Cessna 208 Caravan. In a 22 June letter, Reliable urged the FAA to establish "Digital Flight Rules" – a new category applying to automated flight that would sit alongside visual and instrument flight rules. The company insists its automation technology can improve safety.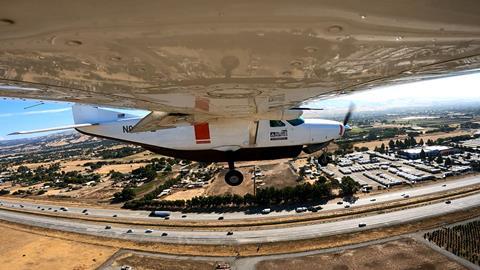 Airports are also highlighting hurdles in the way of an electric aircraft revolution, questioning the business case and citing limited supply of electricity.
"The overwhelming majority of airports reported that they do not have the electric capacity to support these new aircraft," the American Association of Airport Executives (AAAE) told the FAA in a 16 August letter. "Airports… are already struggling to meet the demand for [electric vehicle] charging stations, and AAM would strain limited capacity".
Broader viability concerns about air taxis has also left airports loath to embark on the costly infrastructure updates electric aircraft require, the AAAE says. FAA certification timelines are unclear, and air taxis will likely only operate in visual flight conditions, "which could limit their commercial value".
"These factors, along with an unproven business model, create some uncertainty as to how much demand there will be," the airport group adds.
Air taxi developers agree infrastructure updates are needed.
"It will also require a rethinking of the nation's transportation system, as it relates to power grids," Vermont's Beta tells the FAA.
Beta suggests the agency, through its Airport Improvement Program, help fund installation of electric charging stations – an idea specifically opposed by airport group AAAE. Beta is first developing a cargo electric aircraft before eventually rolling out a passenger variant.
Another player, California air taxi company Overair, says overhauling airports would be similar to the ongoing shift toward electric ground vehicles.
"Electric aircraft are not particularly different than electric vehicles in their charging requirements. The battery pack size is about the same," Overair tells the FAA.
The FAA also last week collected comments related to proposed rules governing air taxi operations and pilot certifications. That proposal would require air taxi pilots be trained in air taxis with two sets of controls, drawing ire from air taxi developers. The companies are building single-pilot aircraft and say the FAA's plan would require they develop training-specific models.