Three major US airlines have pulled some of their Boeing 737 Max jets from revenue service due to an issue related to the type's "back-up power control unit".
American Airlines, Southwest Airlines and United Airlines – the only three US carriers that operate 737 Max – have removed some, but not all, of those narrowbodies from service, they say.
American says the issue affects a pool of recently delivered 737 Max but not those examples it received prior to the March 2019 grounding.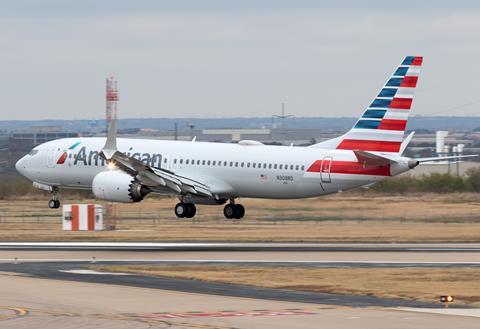 Boeing resumed 737 Max deliveries after the Federal Aviation Administration (FAA) lifted the type's grounding in November 2020.
"Last night, Boeing notified us of a potential production issue with a component in the electrical power system on 17 of our most recently delivered Boeing 737 Max," American says. "At Boeing's direction, we have temporarily removed these 17 aircraft from service in order to complete necessary inspections and make any changes recommended or required by Boeing or the Federal Aviation Administration."
Another 24 of American's 737 Max "are not affected by this issue, as they were produced and delivered prior to the un-grounding", American says. "We will continue to work with the FAA, Boeing and our union leaders and their safety teams as a thorough assessment of the issue is completed."
Boeing disclosed on 9 April that it had recommended that 16 airlines "address a potential electrical issue in a specific group of 737 Max airplanes prior to further operations".
"The recommendation is being made to allow for verification that a sufficient ground path exists for a component of the electrical power system," Boeing added.
The company does not specify how many jets are affected by its recommendation. Globally, 176 737 Max are active in the fleets of 22 airlines, according to Cirium fleets data.
The FAA issued a brief statement on 9 April mentioning the Max's back-up power control unit.
"Boeing notified the FAA late Thursday that it is recommending that operators of certain Boeing 737 Max airplanes temporarily remove them from service to address a manufacturing issue that could affect the operation of a back-up power control unit," the FAA says. "The FAA is in contact with the airlines and the manufacturer and will ensure the issue is addressed."
Neither the FAA nor Boeing has provided more details about the control unit, or what it does.
Chicago-based United has pulled 16 of its 30 737 Max from service.
"Starting immediately and out of an abundance of caution, we are voluntarily and temporarily removing 16 Boeing 737 Max aircraft from our schedule"," United says.
"We have been in touch with the FAA and Boeing and will continue to work closely with them to determine any additional steps that are needed to ensure these aircraft meet our rigorous safety standards and can return to service."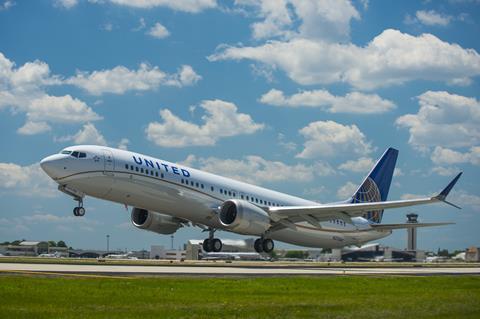 United is working with Boeing to "understand the timeline for returning the aircraft" to service, it adds.
Dallas-based Southwest has taken 30 of its 58 737 Max out of revenue flying, describing the concern as related to a "potential electrical grounding path issue".
"Southwest anticipates minimal disruption to our operation," the airline says, noting that it has been operating only 15 of its Max jets daily.