The US Department of Transportation's top inspector has launched an audit into the effectiveness of the Federal Aviation Administration's oversight of Boeing's production processes.
The investigation by the DOT's Office of Inspector General will specifically focus on production of 737s and 787s. It marks the latest in a string of investigations stemming following the 737 Max's troubles and quality issues involving 787s.
DOT assistant inspector general for aviation audits Nelda Smith notified the FAA of the new review in a 29 June letter.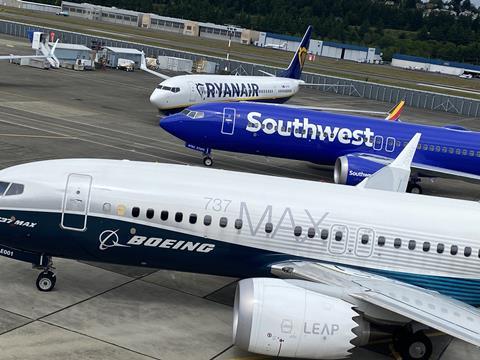 "Our audit objectives will be to evaluate FAA's oversight of Boeing 737 and 787 production, specifically its processes for identifying and resolving production issues and addressing allegations of undue pressure within the production environment," the memo says.
The DOT intends to begin the audit in July and to conduct its work at FAA offices and Boeing facilities.
Neither Boeing nor the FAA responded immediately to requests for comment.
The DOT launched the audit in response to a request from top lawmakers on the US House Committee on Transportation and Infrastructure.
"Since 2019, a number of concerns have been raised regarding production of the Boeing 737 and 787 aircraft—the two production lines with the largest number of aircraft on order," the DOT's memo says.
It cities 787 issues, noting that Boeing's deliveries of the type remain on hold due to quality issues. Those issues involve gaps, between the jets' composite fuselage sections, that failed to meet specifications. Boeing has said the issues do not pose flight-safety problems. Boeing's 787 deliveries have largely been paused since October 2020 pending the FAA's approval of Boeing's fixes.
"In addition, a number of complaints to Congress, FAA and our office have alleged ongoing production deficiencies and undue pressure on Boeing staff in the 737 and 787 production lines," the DOT's memo adds.
The DOT Office of Inspector General has previously started three other recent reviews into the FAA's management of aviation safety. Those have included an investigation of the FAA's process for grounding and re-certificating the Max. Two others focused on the FAA's original certification of the 737 Max 8.
Updated on 29 June 2022 to include the below comment from the FAA.
"We continue to inspect every 737 Max before issuing an airworthiness certificate and will do the same before any 787 Dreamliner deliveries," the FAA says. "Additionally, the agency took positive steps to protect manufacturing employees who act on behalf the FAA and made it easier for those employees to report concerns directly to the agency."
The FAA adds that it "welcomes outside scrutiny and looks forward to sharing how the agency has increased its oversight".