The US Department of Transportation's top inspector has commenced a third investigation into the Federal Aviation Administration's oversight of the Boeing 737 Max, this time examining the FAA's grounding and re-certification of the jetliner.
"This review will examine FAA's actions following each of the two Boeing 737 Max accidents, including grounding of the aircraft and its recertification," says a 20 April memorandum from the DOT Office of Inspector General (OIG).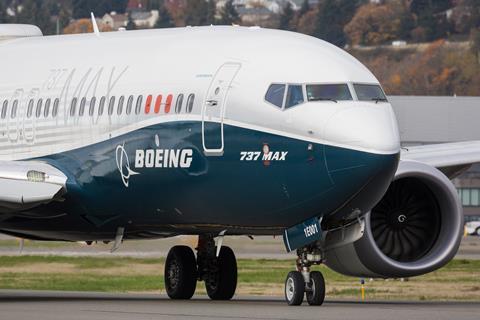 "Our audit objective is to evaluate FAA's processes and procedures for grounding aircraft and implementing corrective actions, including for the Boeing 737 Max," adds the letter, signed by Matthew Hampton, the OIG's assistant inspector general for aviation audits.
Asked to comment, the FAA says it "will cooperate fully with the inspector general's audit, as it has with all other outside reviews of the agency's oversight of the Boeing 737 Max".
"The redesign of this aircraft and the certification work the FAA performed before returning it to service included an unprecedented level of transparent, collaborative and independent reviews by aviation authorities around the world," the FAA adds.
The latest review follows news earlier this month that Boeing recommended airlines remove some 737 Max from service due to an electric problem.
The FAA, which had lifted the Max's 20-month grounding in November 2020, said the issue involved the jets' "back-up power control unit".
American Airlines has said the problem only affects 737 Max delivered by Boeing after the FAA lifted the grounding. As of last week, nearly 80 737 Max – all of the jets Boeing had delivered after the grounding lifted – were in storage, according to Cirium data.
The OIG's review follows two previous related investigations by the DOT's inspector general, all of which had been requested by former secretary of Transportation Elaine Chao and lawmakers on congressional transportation committees.
"We plan to begin the audit immediately," says the OIG. The office does not say when the review might be completed.
The OIG's first report, released on June 2020, provided a detailed look at the timeline of activities that led to the FAA's certification of the 737 Max 8.
In the second report, released in February, the inspector general analysed the FAA's processes for certificating the aircraft and recommended improvements to the agency's Organization Designation Authorization programme – the self-certification programme under which the FAA delegates certification work to manufacturers.