The USA's export-credit agency has agreed to guarantee $833 million in financing for the acquisition by Turkish Airlines of an undisclosed number of Boeing 737 Max and 787s.
The Export-Import Bank of the United States disclosed the guarantees on 2 August, though the finance agency has provided few details.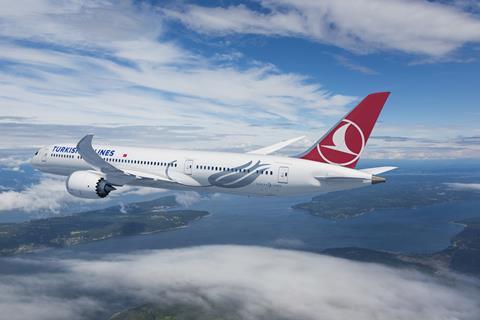 The Ex-Im Bank's board of directors approved "$832.5 million in loan guarantees to support exports of US-manufactured Boeing 787-9 aircraft, 737 Max 8 aircraft and 737 Max 9 aircraft, respectively, to Turkish Airlines in Istanbul", the credit agency says.
It did not disclose the number of jets those funds will finance. Neither Boeing nor Turkish Airlines responded to a request for comment. The bank could not be reached for comment.
Turkish Airlines holds unfilled orders with Boeing for 10 787-9s and nine 737 Max, according to Boeing's figures.
"These are solid transactions at a critical time, and they provide a reasonable assurance of repayment," says Ex-Im Bank's acting first vice-president James Cruise.
The agency's support for aircraft export deals is "especially needed at this time because of the significant financial impact of Covid-19", adds acting president James Burrows.
The Ex-Im Bank supported only about 1% of Boeing's commercial jet deliveries in 2020, though the agency backed about 30% of Boeing deliveries early last decade amid that period's financial crisis, according Boeing's most-recent Aircraft Finance Market Outlook.
Known by some critics as "Boeing's Bank" – a nod to Ex-Im's long history of backing sales of Boeing jets – the Ex-Im Bank provides several programmes that help non-US buyers purchase US products. Those include guarantees of foreign buyers' loans.