While government support would provide vital relief to US aerospace manufacturing at a time of impending crisis, such aid could create a "synthetic" aircraft market to the detriment of the industry in future years.
That's one concern held by Teal Group aerospace industry analyst Richard Aboulafia, who thinks government aid could be essential to averting a broader aerospace manufacturing "catastrophe".
But he says aid comes at a price.
Speaking on 26 March during a FlightGlobal webinar, Aboulafia notes the aerospace industry typically swings between seven up years followed by three down years, during which commercial aircraft delivery values sink about 35%.
"You'll probably see it be worse than that by 2022, because you've just removed several years of accrued demand and kept the synthetic market going," Aboulafia says. "I'm a little concerned about the years to come."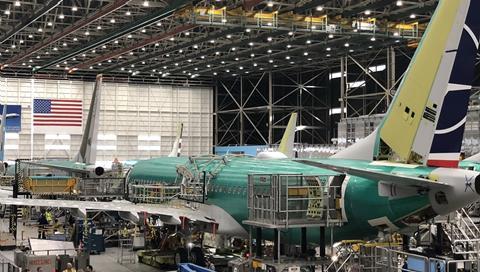 With airlines grounding aircraft in response to plunging air travel demand due to coronavirus, analysts suspect demand for new jets is drying up. That has prompted questions about how long Boeing can operate before needing to scale back commercial aircraft work and lay off staff.
Boeing chief executive David Calhoun told Fox Business this week that Boeing has $15 billion in cash, adding the "enterprise is not threatened". He also expressed wariness of layoffs, noting the company needs those workers when the virus crisis abates.
His comments came as Boeing seeks $60 billion in US federal support for itself and its 17,000 suppliers. The aerospace industry has been included in versions of aid bills, though the US Congress has not finalised the package.
Aboulafia and financial analysts say government aid would surely place Boeing on more-solid footing, noting the company has some $30 billion in liquidity and may be burning $3-4 billion monthly.
Without aid, Boeing could be forced to scale back commercial operations and lay off staff, a potential "economic catastrophe" that would ripple through the US aerospace industry and the broader US economy, says Aboulafia.
Airbus has also signalled interest in potential state aid, according to reports.
"This is a market that no longer functions," Aboulafia says. "The last thing [an] airline wants is a jet."
Should government aid flow, Aboulafia suspects Boeing will continue building jets at rates previously expected. But, for now, few airlines will want all those aircraft, he says.
"The manufacturing part… can become a synthetic market," adds Aboulafia. "No one is taking these planes, or no one really wants them. But they are being built because there's government money."
Financial services company Jefferies estimates Boeing will deliver 494 commercial aircraft in 2020, though the figure ultimately depends largely on when Boeing resumes 737 Max production.
Government aid would help the aerospace manufacturing industry weather the coronavirus downturn.
But the excess aircraft produced this year will be "taking demand away from 2021 and 2022," says Aboulafia.
"You are creating a heck of a demand trough because you've already got supply built up in advance," he says. "I'm a little concerned about the years to come."