United Airlines' chief executive is warning that Boeing and broader US industry will suffer if the US Congress fails to exempt Boeing's 737 Max 10 from a new cockpit-alert-system requirement.
That requirement takes effect on 27 December, and the clock is ticking as Boeing works to avoid further delays to its Max 7 and Max 10 certification timelines.
"Boeing is our largest exporter – high tech manufacturing – the very thing that everyone in Congress wants us to create," Kirby says during an event in North Charleston, South Carolina on 13 December.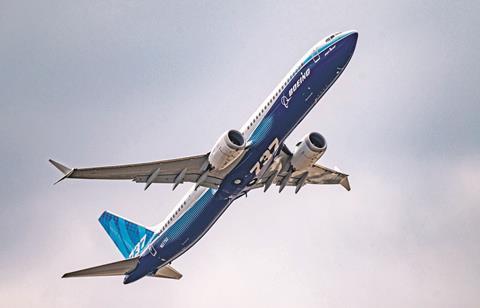 Speaking at the same event, Boeing Commercial Airplanes CEO Stan Deal says Boeing is continuing its Max 7 and 10 certification work under the existing requirements, on the expectation the exemption will come through.
"We are going to keep our head down, working on certification… under the current law," Deal says. "This story is compelling because we're just trying to keep the aircraft safe."
Under a 2020 law, the Federal Aviation Administration will be prohibited, as of 27 December, from certificating aircraft lacking a modern "flight-crew alerting system".
No Max variants have such technology. The Max 7 and 10 are now in the certification process and would be subject to the new regulation, barring an exemption.
"The choice is, do you have American workers build these airplanes in Seattle, or are they built in Europe, China," adds United's Kirby.
He says changing the Max 7 and Max 10's cockpits will reduce safety.
"Putting a different cockpit in requires the same pilots to be trained in two different cockpits and in two different systems… It's a degradation of safety as opposed to an improvement," Kirby says.
United has orders for 442 737 Max, including at least 236 Max 10s, according to Cirium data. It also operates Max 8s and 9s, which are already certificated. Pilots of 737 Max typically change seamlessly between variants – a benefit that would be complicated if the Max 10 gets a cockpit update.
Essentially all large modern jets except 737 Max have modern flight crew alerting systems – centralised systems that display and prioritise alerts, helping pilots respond properly.
Provisions in the 2020 law establishing the requirement stem from two 737 Max crashes.
Boeing had expected its Max 7 and 10 to be certificated before the new requirement takes effect on 27 December, but its timelines slipped amid tight FAA oversight.
Boeing now anticipates the Max 7 will be certificated by early 2023, followed by the Max 10 in late 2023 or early 2024.
In recent weeks, it seemed an exemption might be included in an end-2022 US defence spending bill, but that effort failed.
Now, Kirby is "assuming" the exemption will be passed by Congress next year.
"When it is the right safety answer and its the right economic outcome for the United States – that's what makes me feel confident it will get done," Kirby says.
But the exemption faces pushback, including from Allied Pilots Association (APA), which represents American Airlines' pilots. The union says giving the Max 7 and 10 modern alert technology will improve safety. American, however, does not operate or hold orders for either type; it operates Max 8s.
Updating the Max 7 and 10's cockpits would be an expensive and time-consuming project for Boeing.