A US Federal judge is faced with deciding whether to lift Boeing's immunity from criminal prosecution related to two 737 Max crashes that killed 346 people.
That is according to the attorney for crash victims, who yesterday succeeded in having Boeing ordered to federal court in Texas on 26 January for arraignment on criminal charges.
"The judge has not ruled one way or the other on the immunity provision in the [deferred prosecution agreement]," Paul Cassell, who represents victims of the crashes, tells FlightGlobal.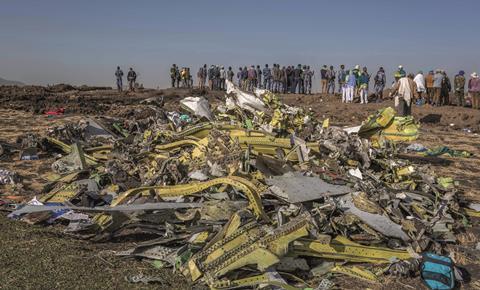 "Right now [Boeing] has immunity," he adds. "We have motions challenging that."
Cassell says federal judge Reed O'Connor with US District Court of the Northern District of Texas could rule at any time whether to lift that immunity. The ruling could come next week during the arraignment.
Boeing declines to comment about the case. The US court did not respond to a request for comment.
Boeing had in January 2021 settled criminal charges with the US Department of Justice related to charges that it defrauded the Federal Aviation Administration as part of the agency's certification of the 737 Max.
With the settlement, Boeing agreed to financial penalties totalling $2.5 billion in exchange for immunity from criminal prosecution.
But Cassell filed a motion asking the judge to order Boeing be arraigned anyway, arguing that victims' families were wrongfully shut out of the settlement negotiations. In court papers, he also said the judge should next whether Boeing's immunity should be "rescinded".
On 19 January, judge O'Connor with US District Court for the Northern District of Texas agreed to the arraignment, ordering Boeing to appear on 26 January.
Arraignments involve criminal charges being read to defendants in court. Defendants also have an opportunity to plead guilty or not guilty, and relatives of the 737 Max crash victims will have a chance to speak.
"It's not immediately clear to me how Boeing in good faith can say its not guilty," says Cassell.
That is because, he notes, Boeing already admitted the wrongdoing in its settlement.
Indeed, in an attachment to the settlement, the DOJ laid out details about how Boeing allegedly "defrauded" the FAA by concealing information about the Max's Maneuvering Characteristics Augmentation System – the system that contributed to both Max crashes.
The settlement itself – signed by top officials including chief executive David Calhoun – specifies that Boeing "admits" that the "allegations… are true and accurate".