The US government has left unchanged a 15% tariff on Airbus aircraft imports following a required review of a broad $7.5 billion tariff package on European products.
The World Trade Organization (WTO) approved the tariffs in October 2019 as compensation for European subsidies received by rival Airbus.
The long-running dispute has pitted the USA against the European Union, France, Germany, Spain and the United Kingdom.
"The EU and member states have not taken the actions necessary to come into compliance with WTO decisions," says United States Trade Representative Robert Lighthizer. "The United States will begin a new process with the EU in an effort to reach an agreement that will remedy the conduct that harmed the US aviation industry and workers and will ensure a level playing field for US companies."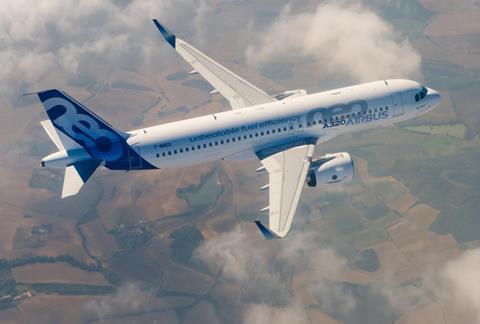 The USA imposed the tariffs on 9 October 2019. US trade laws require periodic tariff reviews.
In a regulatory notice, the Office of the United States Trade Representative says the EU "has not taken action on six of the launch aid measures" identified in the WTO proceedings.
It adds that recent amendments by the European Commission to French and Spanish A350 launch aid contracts do not succeed in "withdrawing the subsidies received by Airbus".
News broke in July that Airbus had adjusted French and Spanish launch aid contracts by raising interest rates on loans and amending other details. The move was viewed as an effort to finally settle the dispute.
Airbus has a large presence in the USA, including an A320 and A220 assembly site in Mobile, Alabama. Jets made at those sites are not subject to the tariff. Airbus has also noted that it spends some $15 billion annually with US suppliers.
Airbus did not immediately respond to a request for comment.
In a statement, Boeing thanks the US trade representative and notes that earlier this year Washington state repealed a tax loophole that benefitted Boeing and other aerospace companies, bringing the US into full WTO compliance.
"We hope the EU and Airbus will engage promptly in meaningful negotiations with the US to address the full scope of their noncompliance and finally bring this case to an end," Boeing adds.