A new US government report makes clear that the carbon-reduction benefits of sustainable aviation fuel (SAF) are unclear – being somewhere more than 50% cleaner than tradition fuel.
Still, SAFs are the central component of the US government's plan for the country's aerospace industry to achieve net-zero carbon emissions by 2050.
US secretary of transportation Pete Buttigieg set that goal for the US aviation industry on 9 November during the COP26 climate conference in Glasgow. The same day, the US Federal Aviation Administration released its "2021 Aviation Climate Action Plan" – a roadmap for getting there.
"There is uncertainty on what the actual life-cycle emissions reductions from these fuels will be," the FAA report says. "There are no mandatory governmental standards for calculating the environmental benefits or dis-benefits of SAF."
Due to that uncertainty, the USA's report estimates SAFs have net-emissions reduction of "at least 50%" compared to conventional fuel.
If the benefit is only 50%, the US aerospace industry's net emissions will be roughly the same in 2050 as they were in 2020. The USA will only meet its net-zero 2050 goal if SAFs cut net emissions 100%, the report says.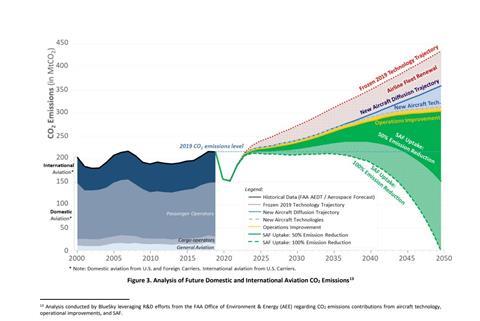 The document details several means by which the industry might reach the net-zero goal. In addition to SAF, those means include air-traffic efficiency improvements and development of new aircraft and engines.
But it says aircraft will be burning jet fuel for decades.
"There is no realistic option that could replace liquid fuels in the commercial aircraft fleet in the coming decades," it says. "Even with significant investments in electrified aircraft propulsion technology and/or cryogenic-hydrogen-powered aircraft, it will take many years for technology to mature to the point of adoption."
For that reason, the US plan relies extensively on industry transitioning from burning conventional fuel to burning SAF.
Such non-petroleum-based fuels are made from materials like municipal waste, used oils and biomass, like plant material. Burning SAF still emits carbon. But SAF is said to be cleaner because that carbon would have been released into the atmosphere anyway, meaning less "net" carbon is emitted. By comparison, burning petroleum-based fuel releases carbon previously trapped underground.
Quantifying such benefits require evaluating SAF "life-cycle emissions," a term meaning all emissions generated through the fuel's life, from production to transportation to combustion, "as well as indirect effects associated with these", says the FAA's report.
"There are no mandatory governmental standards for calculating the environmental benefits or dis-benefits of SAF," it notes.
The USA has projects underway to better understand emission life-cycles and to ensure "the environmental credibility of SAF". It is working with groups like ICAO, the report says.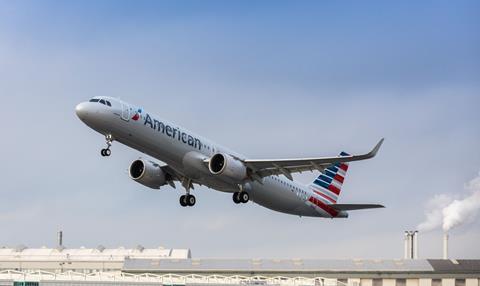 In September 2021, the US government threw support behind SAF with its "Sustainable Aviation Fuel Grand Challenge", setting a goal of producing 35 billion gallons of SAF annually by 2050 – enough for the entire US industry. It also seeks for SAF to achieve "a minimum of a 50% reduction in life-cycle greenhouse gas emissions".
The administration of president Joe Biden has also supported a proposed tax credit that would be available to SAF blenders.
SAF productions has expanded significantly in recent years. Trade group IATA estimates production will hit about 26 million gallons in 2021. That is up from less than 2 million gallons in 2018, according to ICAO figures.
The USA's net-zero 2050 goal aligns with targets set by other countries and by broad swath of the aviation industry, including airframers and airliners.
The US net-zero plan also depends on aircraft efficiency improvements.
"With investments by the [government] and industry in the near term, new narrowbody aircraft could enter the fleet in the 2030s and new widebody aircraft in the 2040s," the report says. "The fuel-efficiency improvements of these new aircraft will be a direct result of research and development investments made over the next five years."
The US government is now supporting advancements in aircraft efficiency through a NASA programme called the Sustainable Flight National Partnership.