The chairman of the US Senate Committee on Commerce, Science, and Transportation has introduced a bill aimed at implementing the findings of its year-long investigation of two fatal Boeing 737 Max crashes and increasing oversight at the US Federal Aviation Administration.
Senators Roger Wicker and Maria Cantwell, the committee's ranking members, on 16 June introduced the "Aircraft Safety and Certification Reform Act of 2020," which takes a tougher stance on the FAA's aircraft certification process than a previous version of the bill.
The committee has been investigating since March 2019 how the FAA approved the 737 Max for flight despite automated flight controls that contributed to two crashes and 346 deaths.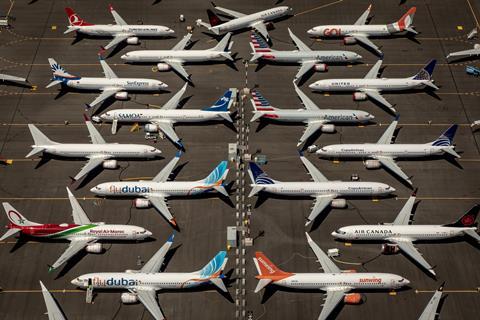 This bill would require stricter oversight of the Organisation Designation Authorisation (ODA) certification process, which currently allows Boeing and other airframers to hire designated engineers to conduct data reports on behalf of the FAA.
"This bill makes it clear the FAA is in charge of the certification workforce and the approval process," says Cantwell, a Washington state Democrat. "Additionally, it requires the FAA to act on the NTSB's recommendations on new safety standards for automation and pilot training."
If passed, the FAA would be required to develop best practices for the ODA process, the agency would have to appoint all designees in the programme and companies would be banned from limiting direct communications between those designees and agency inspectors.
To prevent undue pressure, FAA employees would be forbidden from receiving financial incentives or awards related to certification schedules or quotas. The agency would also have to maintain a voluntary and anonymous safety reporting programme for aircraft designs during the certification process. Existing whistleblower protections for airline employees would be extended to workers at Boeing and other airframers and parts makers.
The committee will have further questions about aviation safety and the ongoing process to recertify 737 Max aircraft for FAA administrator Steve Dickson when he testifies on 17 June.
The costs of new rules would likely fall on Boeing and other airframers rather than airlines who buy the aircraft. The airline industry could, however, benefit if the legislation rebuilds the trust of the US flying public in federal aviation oversight.