US senators Jerry Moran and Mark Warner have put forward a bill to support the aerospace industry as the effect of the global coronavirus pandemic continue to ravage the sector and threaten to destroy thousands of jobs.
The two senators, co-chairs of the Senate aerospace caucus, say their temporary emergency aid programme, called "Private-Public Partnership to Preserve Jobs in the Aviation Manufacturing Industry Act of 2020'', would ensure the industry retains a well-educated workforce, which will be needed during the eventual recovery.
Through a partnership the bill would create, the government would pay up to half the compensation of "at-risk employee groups" as long as companies continue employing those staff. The bill defines at-risk employees as making up less than 25% of an employer's workforce in the United States and "currently at risk of a permanent reduction in force or furlough."
The bill does not specify how much money would be allocated to the industry. Neither the senators nor industry group Aerospace Industries Association (AIA), which supports the aid, could be reached immediately for comment. However, earlier this year Boeing said the industry would need about $60 billion in funding.
"Our aviation manufacturing plays a critical role in both commercial and general aviation, and within our defence community," says Moran, who represents the Midwest state of Kansas. The state's largest city, Wichita, is home to airframer Textron Aviation and Spirit AeroSystems, a major supplier to Boeing and Airbus.
"This legislation would create a programme to temporarily support aviation manufacturing in order to prevent more layoffs and allow the industry to make a faster recovery once this crisis has passed," Moran adds.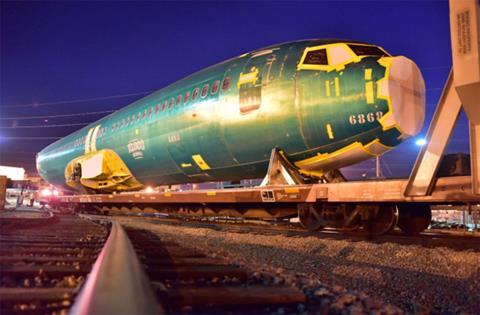 Numerous manufacturers and suppliers already laid off thousands of workers as the economy ground to a halt in the wake of the coronavirus crisis.
"As our airline customers suffer, decline in air travel is also reverberating across the aviation manufacturing sector," AIA writes. "The result is the cancellation of orders and a decreased demand for maintenance and repairs, which in turn, is helping lead to significant layoffs and furloughs." It says temporary and targeted assistance via a coordinated effort between the government and private industry is the best way to protect the sector.
Tom Gentile, chief executive of Spirit, says the plan is a "common-sense, targeted proposal" and will help ensure the US retains a skilled workforce that is vitally important to compete on globally. Boeing echoed this support in a statement.
Spirit, which employs 10,500 workers in Wichita, has said it is laying off 4,250 workers after Boeing and Airbus drew up plans to reduce commercial aircraft production in response to the crisis.
The aerospace bill follows a $2 trillion coronavirus relief package passed in March that offered about $60 billion in aid to airlines, and billions to airports and small businesses. That law did not set aside specific funds for the aerospace sector.