Boeing may be close to securing critical regulatory exemptions for its 737 Max 7 and 10 thanks to provisions slipped into a US government spending bill now working its way through Congress.
If passed into law, the bill would exempt the Max 7 and 10 from needing an updated pilot-alerting system. It would also mandate two "safety enhancements": requiring Boeing update the 737 Max's angle-of-attack (AOA) system and make changes to its "stick shaker" system.
"It adds the capability to discern the false AOA signal, and also the inhibit switch for the stick shaker," Boeing Commercial Airplanes chief executive Stan Deal said last week of the proposed updates. "We're fully prepared to support that proposal."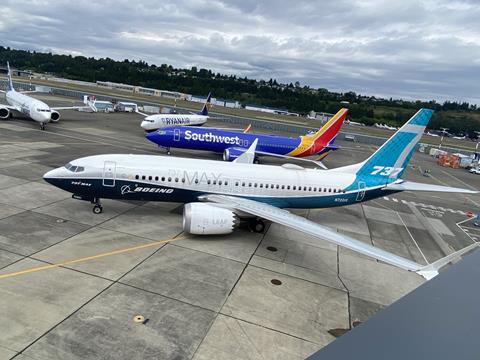 Lawmakers included the measures in a fiscal year 2023 spending bill they are working to pass by the end of the week. Reuters reported the news on 19 December. The bill has been approved by leaders of the Senate and House of Representatives.
The provisions mirror those recently floated by US Senator Maria Cantwell, who represents Washington state.
The regulatory issue stems from a 2020 law that will prohibit, as of 27 December this year, the Federal Aviation Administration from certificating aircraft that lack a modern "flight crew alerting system".
All Max variants have an older pilot-alert system that does not meet the new mandate.
Being the only variants not yet certificated, the Max 7 and Max 10 are subject to the requirement, leaving Boeing facing the prospect of making costly and time-consuming updates. The company aims to have the Max 7 certificated by early 2023 followed by the Max 10 by late 2023 or early 2024, it has said.
The company declines to comment about the legislative exemption. Several weeks ago, supporters in Congress failed to get the exemption in a military spending bill.
But Boeing may have scored a victory in the newly released FY2023 government spending bill. As written, it specifies that the pilot-alert requirement not apply to type certificates for which manufacturers submitted applications prior to 27 December 2020 – the date the law took effect. That language would free the Max 7 and 10 from the requirement.
Such an exemption has faced pushback from families of victims of two Max crashes and from the Allied Pilots Association, which represents America Airlines' pilots.
In an apparent compromise, the spending bill would also require that all Max variants be equipped with a "synthetic enhanced angle-of-attack system" and a "means to shut off stall warning and over-speed alerts".
That requirement would take effect for new-production aircraft (including Max 7s, 8s, 9s and 10s) one year after the FAA issues the Max 10's type certificate. Airlines would need to update in-service Max (again of all variants) to the standard within another two years – a timetable consistent with when jets will need heavy maintenance checks, says a congressional source familiar with the bill.
"The safety-first alternative is much stronger than the no-strings-attached approach that was first offered," says Senator Cantwell, referring to an earlier proposal that included an exemption but no requirement for other updates. "Passengers need to know that the entire Max fleet will be uniform and safer."
The synthetic AOA would supplement the Max's existing AOA system, which consists of two AOA sensors. Erroneous AOA readings contributed to a series of events that caused two Max crashes, in 2018 and 2019.
Boeing has already been developing an "enhanced" AOA for the Max 10 (as required by European regulators) and has planned to update other Max models with that change, it has said.
Allowing pilots to disable stall and over-speed alerts is viewed as a means to help pilots address aircraft problems by minimising cockpit distractions.