German air taxi developer Volocopter has launched a new, larger electric vertical take-off and landing (eVTOL) aircraft called VoloConnect, with a goal of having the new design flying passengers in five years.
VoloConnect will have four seats, retractable landing gear, a 52nm (97km) range, cruise speed of 97kt (180km/h) and a maximum speed of 135kt, says the company.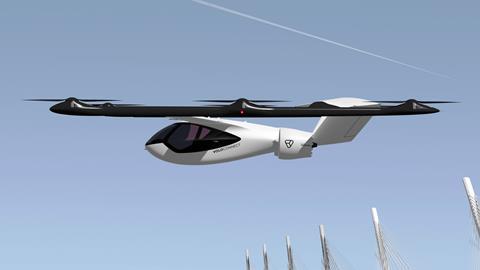 Volocopter revealed the project on 17 May during a press conference as part of the virtual EBACE Connect event.
VoloConnect will have two fixed wings and six lifting rotors. It will also have two aft-mounted fans to provide forward thrust.
Those fans and the fixed wings differentiate VoloConnect from the company's other models: the two-seat VoloCity and the "heavy lift" VoloDrone.
Those multi-copter designs have 18 lifting fans, 19nm range, 52kt cruise speed and 200kg (440lb) payload, the company says.
Volocopter will continue designing those aircraft alongside VoloConnect, allowing it to address more-broadly the urban air mobility market, it says.
"This electric vertical take-off and landing aircraft is designed to connect suburbs to cities and complements the company's existing family of aircraft for the intra-city mission," Volocopter says. "VoloConnect's distinctive hybrid lift and push design is expected to achieve certification within the next five years."
Volocopter chief executive Florian Reuter says VoloConnect will provide the "next level of flight efficiency". The aircraft's "layout is ideal for smooth, fast travel experience", he adds.
"We have been working for years with a dedicated team at our Munich site," he says, noting that Volocopter has filed for a design patent.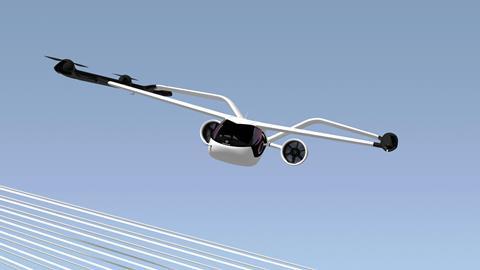 Volocopter expects to complete VoloConnect's certification, and place the aircraft into service, in 2026. The aircraft will have Volocopter's fly-by-wire flight-control system and be capable of autonomous operations.
However, initial variants may be piloted, depending on how quickly autonomous-flight regulations advance, says Reuter.
He declines to say when Volocopter might unveil a VoloConnect prototype or conduct first flight, saying only that the company "is working fast toward flying full-scale prototypes".
In 2023, the company aims to begin operating passenger flights using VoloCity in either Paris or Singapore.
Noting that Paris will host the 2024 Olympic Games, Reuter says: "If I had to make a pick today, it would be Paris."
He insists the company has sufficient financial resources to develop the three aircraft, noting that Volocopter recently raised $240 million in funding. "We are very confident we will receive the necessary funding to… complete our strategy," he says.