Could a large aerospace or defence company – or possibly a billionaire entrepreneur – finally break the Airbus-Boeing duopoly by developing a new passenger jet?
Such a development might indeed be far-fetched considering the complexity and expense of bringing large aircraft to market.
Still, the prospect is at least feasible, say aerospace analysts. They note that shifting market dynamics have created an opening into which a well-financed, risk-tolerant player could theoretically jump.
Those dynamics include Boeing's delay in launching a new aircraft programme, the success of Airbus's A321neo, and consolidation among aerospace suppliers and defence contractors, which left several massive players in control.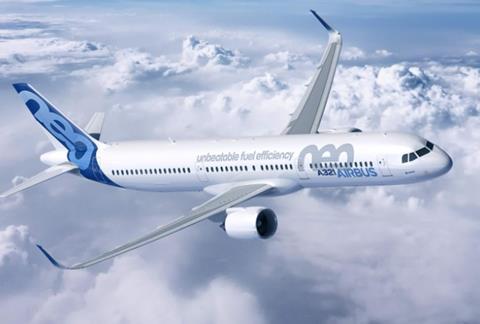 "How long before a mega supplier sees what's going on at Boeing, and the relative imbalance of the duopoly, and says, 'Yeah… we're going to create our own'" aircraft, says Richard Aboulafia, analyst with AeroDynamic Advisory.
Aboulafia was among several analysts who theorised about future competitors on 9 February during the Pacific Northwest Aerospace Alliance's annual meeting in Lynwood, Washington.
Not everyone agrees, not even Aboulafia's colleague, AeroDynamic managing director Kevin Michaels.
"Just because you make the actuators for the wing doesn't mean you know how to design a plane," Michaels says.
"Boeing is more than just someone putting these things together," he adds. "There are bigger barriers there to overcome."
Ron Epstein, financial analyst with BofA, views Embraer has having the technical ability to develop a larger passenger aircraft. But, he notes the Brazilian airframer has not expressed interest in such a project. It would also need well-financed partners to pull it off.
Analysts note consolidation has left very few large companies controlling the civil and military aerospace market. Notable among those is Raytheon, a $64.4-billion revenue firm formed with the 2020 combination of Raytheon and United Technologies, owner of Collins Aerospace and Pratt & Whitney.
Other major US players include GE Aviation, General Dynamics, L3Harris, Lockheed Martin, Northrop Grumman and Lockheed Martin.
Meanwhile, Boeing has faltered.
The company is now working to get the 737 Max programme on track and to right the badly listing 787 programme. Boeing's 787 deliveries remain paused amid quality problems and intense scrutiny from the Federal Aviation Administration. Boeing, once a $101 billion-revenue company, generated revenue of $62 billion in 2021.
MID-MARKET OPENING
Boeing has also yet to launch a new aircraft programme even as some analysts insist it must act immediately to counter the success of Airbus's A321neo.
With lack of action, Boeing has all but conceded the middle-market space – in which the A321neo sits – to Airbus, Aboulafia says. "That's not a competitive situation."
The result: a "huge opportunity" for a well-funded third player, he adds.
Aboulafia can envision a large aerospace supplier or defence contractor launching their own aircraft programme, perhaps in partnership with a smaller airframer like Embraer.
But Michaels sees no reason a high-margin aerospace supplier like Raytheon would risk everything with a passenger aircraft venture that might return single-digit margins.
Such a proposition would receive cool reception in Raytheon's board room, he speculates. "You'd get thrown out on your keister."
A more likely scenario, says Michaels: that a "disruptor" like Elon Musk leads such a project in partnership with another firm – say, Northrop Grumman. Perhaps such a team could bring to market a novel aircraft, such as one with a blended-wing body.
While the idea of a third Western airframer might seem unlikely, the analysts note that many companies once sparred in the passenger-jet-development business. Boeing, Lockheed and McDonnell Douglas all once produced passenger jets at the same time.
In recent years, airframers in Russia and China have challenged Airbus and Boeing, but with minimal success.
Also, Aboulafia calls attention to Bombardier, which came ever so close to breaking the Airbus-Boeing duopoly with its CSeries. Bombardier brought that aircraft through development thanks partly to government aid and support from United Technologies, whose subsidiary P&W supplies the jets' engines.
But Bombardier could not see the project through. In 2018, financially strained, it handed Airbus majority ownership of CSeries, now called the A220.