If there were an optimum time to take over as chief executive of a business it would probably be when sales were at their most buoyant, the outlook was robust and the wider industrial landscape was settled. It would certainly not be during the deepest crisis your industry has ever known and hot on the heels of a collapsed merger that promised to inject new momentum into the business.
But that scenario is precisely what Arjan Meijer faced when he became chief executive of Embraer Commercial Aviation in June. Coronavirus travel restrictions and plunging demand had forced airlines into a battle for survival, with knock-on consequences for their aircraft suppliers.
And if that was not bad enough, at that point Embraer was still working out how to piece itself back together, having carved out the commercial aviation business in anticipation of the sale of an 80% stake to Boeing. When that deal collapsed in April, the Brazilian airframer had to undo all the complex work it had performed over the previous two years – at not insignificant cost – at a point where it could ill-afford any missteps.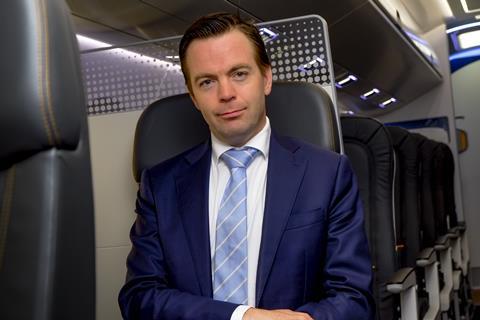 "It has been an interesting year," says Meijer, with a huge dollop of understatement.
Certainly the impact of the coronavirus downturn is evident from its order and delivery activity: E-Jet shipments have slowed to a trickle, down to 16 in the first nine months of 2020, from 54 a year earlier, while only 20 new orders have been recorded. In addition, this year, two E190-E2s were added to the backlog following Congo Airways' conversion of an existing order for a pair of E175s, while Switzerland's Helvetic Airways also converted four of its remaining firm E190-E2 orders to the larger E195-E2.
If there is a positive aspect to any of this, however, it is that there have been no cancellations. Some customers have deferred deliveries into 2021 and 2022, says Meijer, but none has taken the more drastic step.
"I believe airlines are committed to these aircraft because they need them for their networks. That has not changed – they still need them; the long-term need is still there," he says.
In fact, Meijer, the unit's former chief operating officer, seems strangely confident given the prevailing mood of depression elsewhere in the industry. But it is a belief in both Embraer's products and the market conditions for them that appear to be buoying his mood.
Meijer's contention is this: while IATA forecasts suggest that the international aviation market as a whole will not return to 2019 levels until 2024 or 2025, the sub-150-seat segment in which Embraer operates will recover much more quickly. And as operators try to cope with lower passenger numbers on short-haul routes, they will have little option but to turn to smaller aircraft offering the efficiency promised by the latest generation of the company's E-Jet range, the E2.
"In commercial aviation we are confident going forward that airlines will look at our segment," he says. In the "new world after Covid", Embraer "can offer a very compelling product to help them get out of the crisis." Its recent 10-year forecast suggests a requirement for 5,500 aircraft in the sub-150-seat segment by 2029.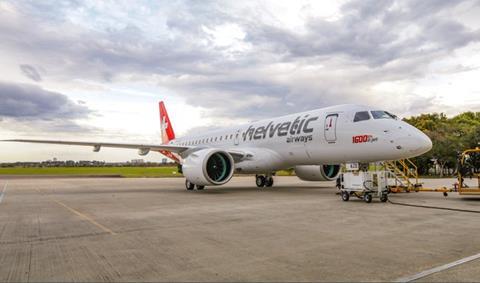 A return of customer confidence is key, and assuming that comes back "then airlines will rebuild their networks and will re-engage in fleet discussions," he says. Carriers looking to downgauge will also be a driver of the renewed sales activity, he says.
But since their launch in 2013, customers have been slow to embrace the E2-series jets. Or rather, while there was an initial flurry of orders, cancellations have steadily eaten into the total: Embraer has taken firm orders for 173 aircraft, while the undelivered backlog is 151.
Although the majority of cancellations were from one carrier for the smallest family member – SkyWest Airlines axed an order for 100 E175-E2s due to issues related to scope-clause relief in the US regional market – Embraer has struggled to bring in what former commercial aviation chief John Slattery used to refer to as a "marquee customer".
While Azul and KLM have signed up, the remainder of the airframer's backlog for the E2 comprises either lessors or smaller, regional carriers.
Meijer thinks that several factors have hampered sales over the preceding years. Firstly, the relative youth of the 1,500-strong first-generation E-Jet fleet has been a brake on new orders. "The E2 came to the market rather soon in the life of the E-Jets – the E1 is still young," he says. But with that fleet now beginning to age, many of the "marquee" airlines that fly the older variant will be looking "to replace them with a more efficient successor".
In addition, the "uncertainty" around the merger with Boeing created another headwind, says Meijer. Announced in December 2017, negotiations over the deal dragged on for over two years before it fell apart. Although he says it is impossible to quantify the impact, he notes that "as with any market, uncertainty is never your friend. The fact that it was not clear that the deal would happen just did not help us.
"It is hard to put a figure on it. We discussed with a lot of airlines over that time and it was evident that they wanted clarity."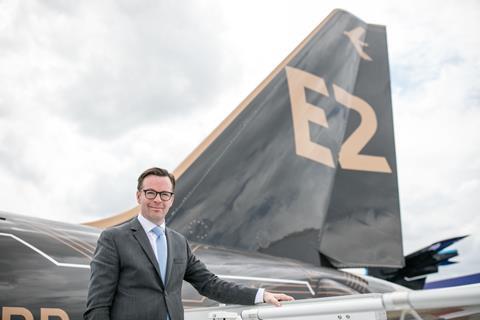 But the chief rationale for the tie-up with Boeing in the first place was as a response to the acquisition by Airbus of the CSeries – now the A220 – from Bombardier. Since gaining the sales and marketing heft of Toulouse, the A220, which competes with the E2 range, has secured several big orders, including from JetBlue Airways and Air France.
That market dynamic does not appear to have vanished, but Meijer seems sanguine about Embraer's ability to stand on its own feet. Although he acknowledges that he was "surprised and disappointed" when Boeing pulled the plug, he thinks that the coronavirus-reshaped market means some of the logic that drove that deal no longer applies.
Besides, he maintains, the E2 can still out-compete the A220: while the E-Jets are optimised for their mission, the Airbus jet is designed with a further stretch in mind, he says, something that operators "pay the bill for".
On top of which, as part of the commercial aviation unit's re-integration with the rest of Embraer, company-wide synergies – in procurement, inventory and so on – are being sought, designed to "reduce the cost of the product significantly".
Although Embraer may no longer need a partner on the scale of Boeing, where it does need an ally is for the proposed development of a new turboprop airliner.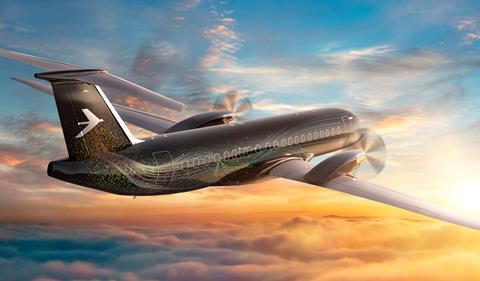 While the Brazilian airframer has been quite vocal about this all along – back in January the company's message was broadly "no [Boeing] JV, no TP" – Meijer reveals that Embraer is now in "active talks" with interested parties.
"We still believe in the turboprop, we have a good proposition in mind. But we are very clear that we are looking for a partner to bring that to life," he says.
Meijer declines to reveal details on the discussions, but says the potential collaborators are from both the financial and industrial sectors.
As the aircraft remains at the concept study stage and is to be officially launched, there are few firm details. But what Embraer has said so far is that it will sit in the 70-100-seat segment – slightly larger than the ATR 72-600 – and have conventional rather than hybrid-electric engines. In addition, it is also likely to use the same fuselage as the current E-Jets in order to benefit from industrial synergies.
The decision to opt for conventional propulsion was a simple one, he says. "The market is not ready yet, technically or economically, to put another technology on a turboprop." To add a hybrid-electric powertrain – even one delivering as little as 5-10% of the total requirement – would increase operating costs by 15%. Or, as Meijer puts it: "It would add a lot of cost for limited benefit." Attempting to introduce a hybrid engine on a "non-economical basis" is "not going to work for airlines", he says.
Embraer's strategy, he says, is to bring to market a turboprop that delivers the step-change in sustainability and operating economics that the original E-Jets offered over the previous generation of regional jets.
"They were the most sustainable and economical aircraft: that is what we will do going forward."