Embraer expects regional airports and smaller passenger aircraft will emerge on top from the coronavirus pandemic due to population shifts away from big cities.
"We do believe that the small airplane will have more relevance in the airline business model in the future," Embraer strategic marketing director Daniel Galhardo tells FlightGlobal on 14 October. "Demand will come back, but it will come back in a different way."
Galhardo bases his prediction on factors including the recent surge in remote working, which is allowing people and companies to relocate from big cities to smaller towns.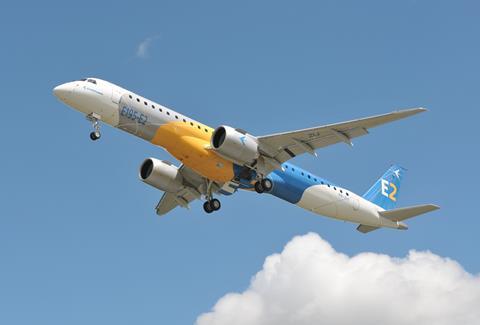 Other executives recently expressed similar sentiment, including a Delta Air Lines executive who spoke this week.
"We will see people looking for other places to live. They don't have to live in big centres anymore," Galhardo says. "Companies actually will also be able to establish their headquarters away from big centres."
Additionally, anti-globalisation sentiment in the US, Europe, Asia and elsewhere has led some manufacturers and suppliers return to home countries, centralising operations there.
In the post-virus environment, such factors will drive more demand for regional and inter-regional travel, benefiting regional-aircraft makers like Brazil's Embraer, Galhardo predicts.
"There will be more business connections domestically and inter-regionally," he adds. "It is definitely a matter of adjusting the [airline] business model."
Such trends were already underway before the pandemic but have since accelerated, Galhardo says.
Delta senior vice-president of network planning Joe Esposito said much the same on 12 October.
"Now big cities are getting smaller," Esposito said during Boyd Group's International Aviation Forecast Summit. "The forecast of where people live and move has changed."
Embraer largely dominates the regional jet manufacturing market. Montreal's Bombardier had been a formidable competitor until announcing in June 2019 plans to cease CRJ production after selling the programme to Japan's Mitsubishi Heavy Industries.
The sale closed in June.
Mitsubishi subsidiary Mitsubishi Aircraft is developing its own competing regional jet – the SpaceJet. But the company has delayed that programme amid the coronavirus downturn.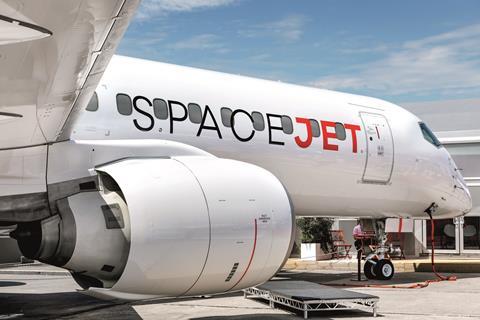 Galhardo expects the pandemic will also lead airlines to focus increasingly on chasing profits, not market share.
By contrast, in recent years carriers had rushed to acquire new, larger jets and expand their networks – an effort to match competitors. Profits slumped, Galhardo says.
"Our size of aircraft is important because [it] helps airlines to right size in terms of load factor and… cost management," he says. "It will be important in the future when the demand will be changed."
Embraer's line-up includes E175s (76-88 seats) and three second-generation E-Jets: E175-E2s (80-90 seats), E190-E2s (97-114 seats) and E195-E2s (120-146 seats).
The E190-E2 and E195-E2 are already in service, though Embraer has pushed back service-entry of the E175-E2 to 2023, citing difficult market conditions.
The E175-E2 has been essentially cut off from the US airline market, owing to so-called "scope clauses" within contracts between the three major US network carriers and their pilot unions. The E175-E2's maximum take-off weight (MTOW) exceeds contract limits of 86,000lb (39,000kg).
But Embraer has continued manufacturing its first-generation E175. That jet's MTOW falls under the cap.
US airlines have expressed interest in acquiring E175-E2s, though first they must renegotiate contracts. For years, there has been ample speculation about when airlines might succeed in negotiating an increased MTOW cap.
Galhardo thinks the time may soon be right.
Factors such as industry turmoil and the advent of new products typically drive scope changes, he notes.
"What we are actually watching now is both things happening," he says. "We are at a moment when the airlines will have to rethink their business."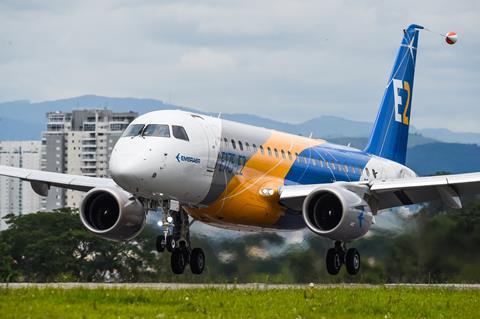 Embraer typically releases its airline industry fleet outlook in the first half of the year, ahead of major summer air shows.
But the company delayed this year's forecast. It expects the report will be complete by the end of October but has not said when it will release the outlook.