Boeing confirms that wire component shortages are impacting 737 Max production, though a top executive says the issue is unlikely to disrupt the company's 2022 plans.
However, a source familiar with the 737 programme describes the wiring problem as significant, saying it is limiting Boeing's ability to meet production-rate goals.
"We have one particular wiring connector that has been slowing things down," Boeing chief financial officer Brian West disclosed during an 11 May Goldman Sachs investor conference. "It is a reflection of a crazy supply chain world."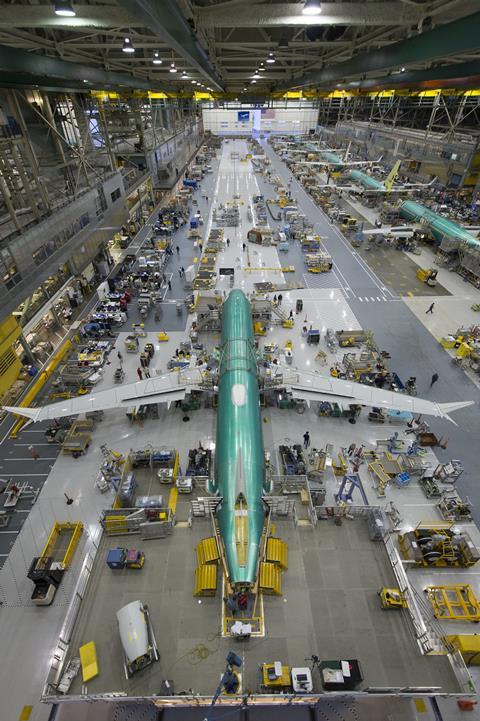 Parts shortages have been widespread in recent months due to factors including disrupted shipping networks and a lack of skilled workers. Aerospace companies up an down the supply chain have been impacted.
Despite the wire-connector issue, West describes Boeing's 737 production rate as largely aligned with the company's goal of producing 31 jets monthly.
"The supply chain is set at 31," he says. "I'm not worried that the overall plan for the year [will be] disrupted".
Still, West concedes the shortage has prompted Boeing to "slow things down, and in some cases just pause, if the parts aren't there".
A source familiar with the 737 programme says Boeing is dealing with both a shortage of wire components and with wire components that are failing to meet specifications.
The problem has prompted extended recent production pauses and is key among factors limiting Boeing's ability to increase output, adds the source, who asked to remain anonymous due to the sensitivity of the issue.
They note that wiring typically must be installed before workers complete major assemblies, such as mating wings to fuselages, or installing interior walls.
Due to shortages, some areas of 737 production have been moving faster than others, requiring Boeing to store some completed sections until other production areas catch up, the source adds.
West says the wiring connector shortage involves multiple suppliers from a "fairly localised" region of the word, though he declines to say where or to name those companies.
"We are doing everything we can" to address the shortage, he adds.
Boeing declines to comment further about the issue. The airframer has not disclosed its current 737 production rate.
It delivered 115 737s (including five 737NG-based military aircraft) in the first four months of 2022, or about 29 monthly, but those figures are not directly aligned with production rates. That is partly because the shipments included previously built jets from Boeing's stockpiled inventory, according to Cirium fleets data.
Boeing accumulated some 400 737 Max during the grounding and has since been working to clear that backlog.